Garden with a swing. Inspirations and ideas for fashionable decor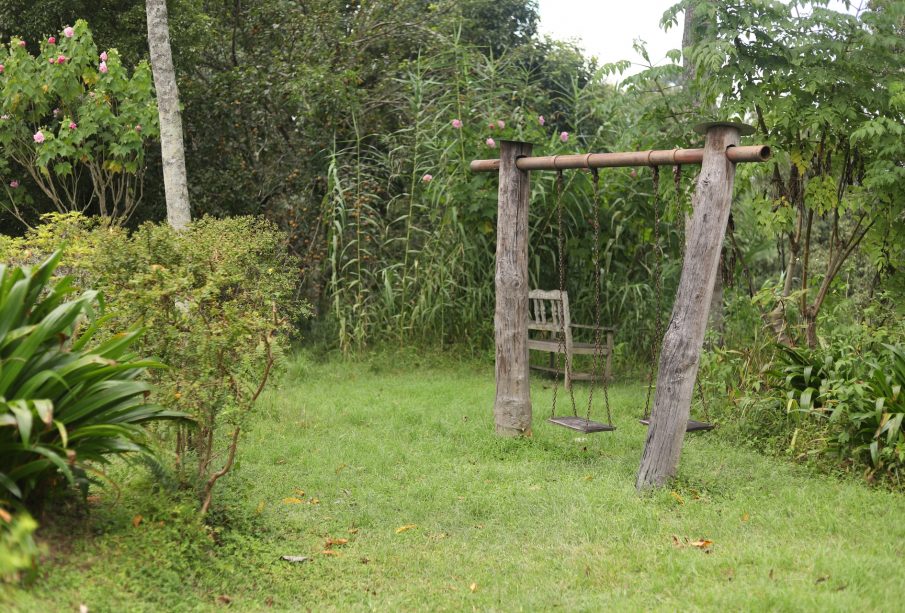 Arranging a garden gives room for our imagination. When creating our own place of relaxation, we should be guided by the functionality of the arrangement and its aesthetics – the relaxation area must be pleasant and really help to recharge the batteries after a hard day. A swing can be the garden element that provides both. Here are some inspirations for a trendy garden design with a swing.
If you want to prepare your garden for the warm months and make it a real relaxation zone, a good solution may be to equip it with a swing – a piece of furniture that allows you to have a pleasant rest, and also looks spectacular. See some ideas for garden arrangements with a swing.
Swing among the flowers
Each swing will look phenomenal surrounded by flowers. We can achieve a unique effect by decorating the frame of the swing with vines. These may be plants with decorative flowers, roses, or the selected type of ivy – a green canopy over the swing will add incredible charm to the garden arrangement, and also provide shade in the place of rest. This solution works especially well in gardens with romantic decor, but not only – green ivy can also look great with a modern swing.
Swing in the privacy of greenery
A good location for a garden swing will be a secluded, intimate place, slightly away from the center of the garden. This location will allow us to create a real zone of relaxation, which will provide its users with silence and the possibility of comfortable rest. An elegant path paved with stones, pavers or garden slabs may lead to the swing. Its closest surroundings, in turn, can be filled with various types of shrubs, conifers or flower beds.
Stylish arrangement with a hanging armchair
Another way to create an interesting garden arrangement with a swing is to use striking hanging armchairs. This is a particularly fashionable solution that stands out for its aesthetic value. Hanging armchairs are mounted on a frame, which we can put in any place. This type of swing can be used in the garden in virtually any style – its subtle, graceful design will work in most places. Choosing a modern model of hanging cocoon-style seat, we have the opportunity to buy a product with a ready-made frame, which does not require additional assembly.
Modern minimalistic garden
If we would like to decorate our garden in a minimalist style, we can opt for a traditional single swing, made for example from wood. Suspended on a simple frame will match most garden furniture, can be found on the patio, or on the grass surrounded by greenery. Such a swing can also be suspended from a tree, if we have such a possibility in the garden.
Wild garden with a tree swing
Owners of gardens with a larger area, with tall trees can afford to arrange a wild-looking space and in the midst of such a bush, hang a tree swing. Swing surrounded by lush greenery, near a narrow pathway will create a fairy-tale effect. Such a place will definitely allow you to relax wonderfully and will look amazing.
Main Photo: Nagesh Badu/unsplash.com