Wooden garden swing. An idea for relaxing in the garden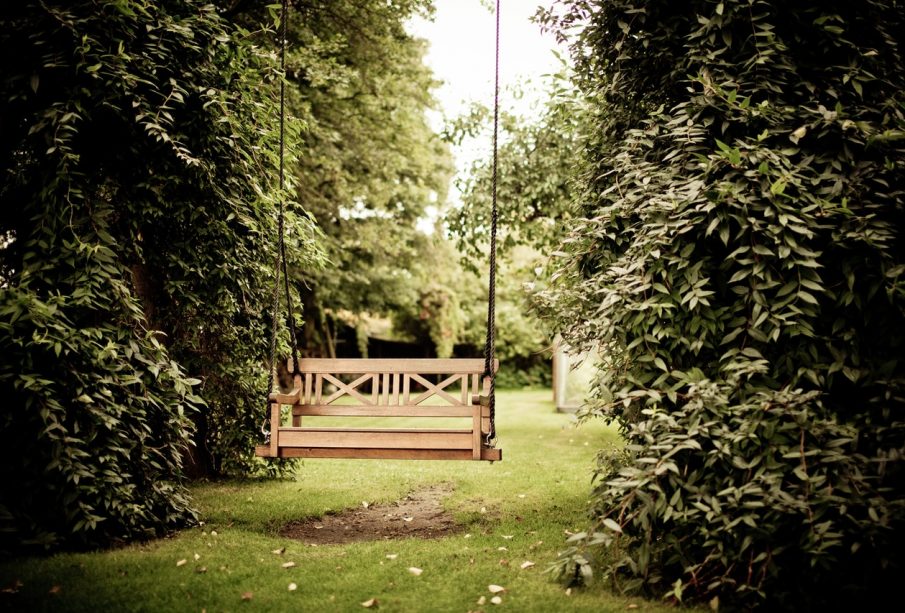 Summer has passed, but we still spend a lot of time in the garden. In order not to get bored there, it's worth investing in a wooden swing. Which one? We come with an answer!
Not only for children!
We associate swings with the favorite equipment on children's playgrounds. However, they are not reserved only for the youngest. Beautifully made wooden swings can successfully be a useful piece of garden furniture. They can not only give pleasure while relaxing or taking a nap, but also please the eye
If you have children and you know that they will use the swing, it is worth choosing a model that will be safe for them. We are talking especially about small children, then it is worth paying attention to the additional safety features offered by the manufacturer. The swing, on which the youngest will also swing, should not be too high – the appropriate height will prevent falls and bruises in the future.
What kind of swings to choose for the garden?
We recommend primarily those made of wood – they are admittedly less durable and have a lower load capacity. They are, however, environmentally friendly and simply visually nicer.
The advantage of wooden swings is that you can freely choose the type of wood from which it will be made. If you care about the durability of your piece of furniture, it is advisable to choose a swing made from hardwood trees – it will be more expensive, but it will serve you longer. You also need to know that wooden swings need to be impregnated once in a while. This will prevent cracking of the wood and protect the furniture from moisture and sunlight.
When choosing a swing for the garden, you should consider how many people will sit on it comfortably. The market is available because the swings are single person, but also two-person or even six-person. When choosing a garden swing, an important aspect is also the square footage of the garden – because you need to properly choose the size of the swing.
It can not be too small, because then it will "disappear" in the garden. It can also not be too large, because it will give the impression of clutter and clutter. It is also worth considering how to mount the swing we are interested in – on the market there are seats suspended to the ceiling, on a frame or a special frame. It all depends on what effect we want to achieve. For large gardens, however, recommended free-standing, chain-suspended swings on a frame of logs or thick squared timbers
Advantages of a wooden garden swing
A huge advantage of wooden swings is that they are eco-friendly – made of natural material, they do not harm the environment. Another advantage of wooden swings is that they will perfectly blend into any space, they are versatile.
Garden swings made of wood are also much more pleasant to the touch and to sit on than those made of metal or plastic. A huge plus is also their stability – they are quite heavy, which makes them fearless of wind and load (of course, everything within the limits of manufacturer's recommendations!)
Disadvantages of wooden swings
Both a disadvantage and an advantage here is their considerable weight. While in terms of stability this works to your advantage, in terms of mobility this is a huge minus. You have to reckon with the fact that, for example, when mowing the lawn on which the swing stands, it will not be so easy to move it.
A big disadvantage of wooden garden swings is the need for impregnation. Without this, it will very quickly lose color, become damp and cracked. Impregnation swing should unfortunately be repeated from time to time. Wood is after all a natural material, not resistant to UV radiation or moisture. So you need to properly protect them. This is a necessary condition if you want to enjoy a swing for years
Prices of wooden garden swings
This is a subject of a river. In short, the more durable and larger the swing, the higher the price. The cost of buying a wooden garden swing also depends on the wood from which it is made. It goes without saying that a swing made of exotic ebony will be much more expensive than one made of native material
It is also worth knowing that the swing purchased in a DIY store will be cheaper than the one custom-made by a carpenter. Deciding on a wooden garden swing, you have to reckon with the expense of 1500-3500 zł.
Main photo: Rene Asmussen/pexels.com