Theglamour bedroom – we suggest how to arrange it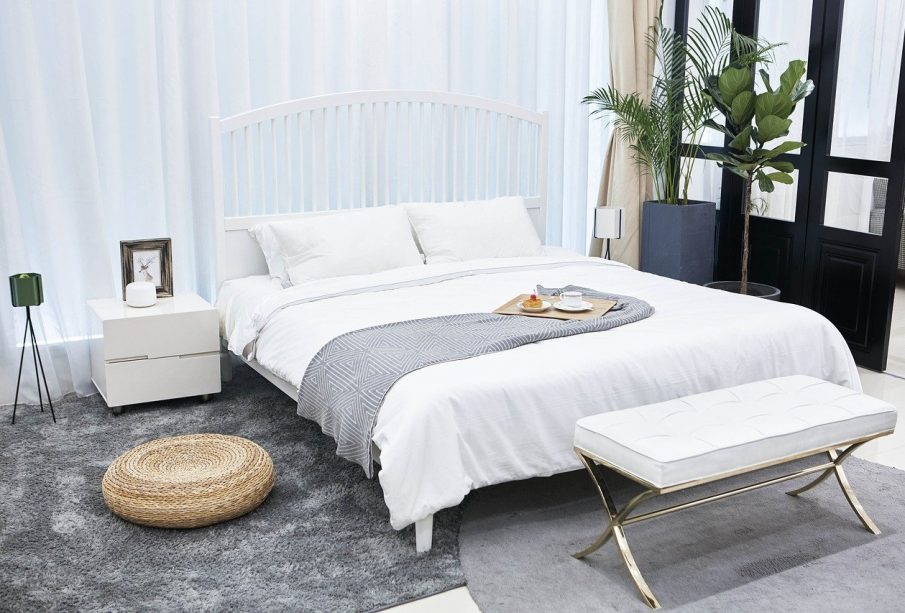 Formerly glamour used to mean something that changed form and shrouded things in an aura of mystery. Today this style is mainly associated with regal and glamorous arrangements. Glamour is not afraid of contrasts, vivid colors and decorative elements in a bedroom. It is open to drawing inspiration from many cultures, as well as experimenting with different textures and materials.
Dreamlike bed
Bed is undoubtedly the most important piece of furniture in your bedroom. It's there to give you rest and relaxation. Check the mattress dimensionsat before you buy it, and make sure you choose the most comfortable and biggest mattress you can afford in the room. A glamour style bed should not only be comfortable but also glamorous, which is why models with a quilted headrest in shades of white, beige or gold work well. An upholstered headrest is much more practical than a metal one, as it will be more comfortable for your back when reading or watching TV.
Window to the world
The role of curtains and blinds in the bedroom is invaluable for a good and deep sleep. You should sleep in a room that is dark, quiet and cool. A bedroom can be beautiful, but if it is not functional, it is of little use. To darken a room for the night and keep it from getting too hot on warm days, you will need good blackout roller blinds. Curtains, on the other hand, will protect you from unwanted glances and at the same time have a decorative function in the room. When decorating a bedroom in glamour style, let yourself go wild with patterns. You can use curtain fabrics for this purpose. They will work well for creating original curtains as well as for making bedspreads, cushions and furniture upholstery elements. You could complete your décor with floral, oriental, velvet or shiny fabric curtains. The choice is really big and depends only on your preferences. But if you prefer your bedroom in more subdued, powdery shades you can bet on small glamour accessories like elegant furniture handles or curtain rings.
Gold and crystals
A crystal chandelier or golden wall lamps in a New York style will go well in a glamour bedroom. No one will be able to pass by an impressive chandelier in your room indifferently – during the day the crystals will beautifully reflect sunlight, and at night – after the chandelier is lit – they will cast spectacular shadows on the wall and make the bedroom look mysterious. Discreet wall lamps placed on either side of the bed will also work well. When choosing lighting for your bedroom, make sure it is energy efficient and gives a warm and soft light that does not strain your eyes.
Glamour decorations
Decorative elements in a bedroom should harmonize with the whole, so it is best to choose them at the end. If the glamour bedroom is to be chic, do not exaggerate with their quantity. It is good if the decorations are functional – it may be a mirror in a golden frame, a breakfast tray for the bed or a glass bedside table on stylish legs. All the elements collected together will allow you to arrange the bedroom as if from a royal apartment.
Main photo: Hencyx/pixabay.com