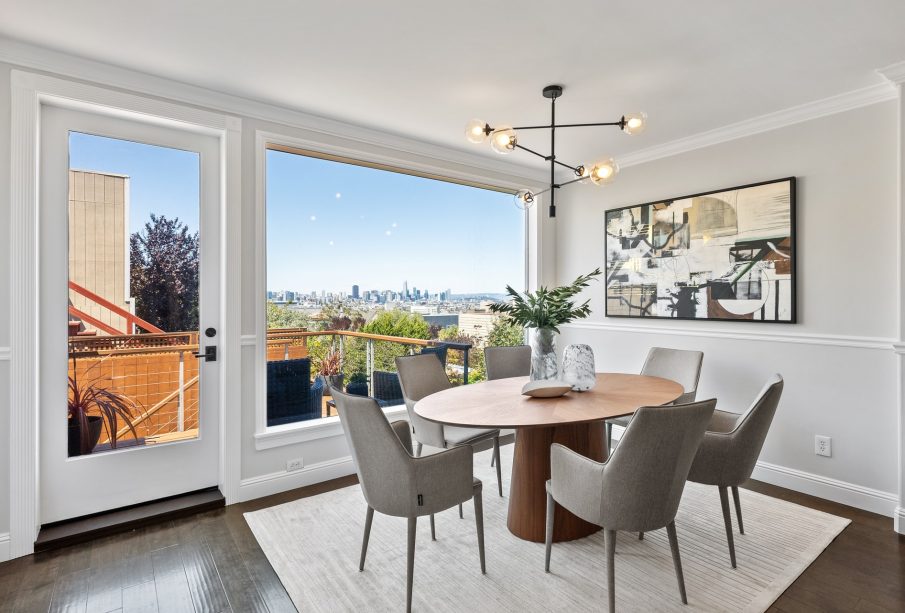 The dining room is the place where you eat meals together with your loved ones and celebrate special occasions. That's why it should be a welcoming and pleasing place to the eye. So find out how you can quickly redecorate it to make it a beautiful and aesthetic interior.
Dining room furniture – how to choose it?
The biggest change you can make to your dining room is to change the furniture. But how do you choose furniture that is not only practical but also looks beautiful?
Dining room table
Let's start with choosing a table, as it is the most important piece of furniture in any dining room. First of all, think about how big a table you'll need – think about how many people are at home and how often you receive guests and in what numbers. A table that's too small will be uncomfortable and one that's too big will take up a lot of space. A great solution, then, is to have elegant custom oak furniture that is the perfect size for your needs
If you already know how big a table you will need, you can move on to aesthetics. For a slightly more traditional interior, a natural wooden table is a great choice. If you prefer a more modern look, such as Scandinavian style, then a white table would be an excellent choice. If your dining room is rather small, a round or folding wooden table is also a good idea as it takes up much less space than a square or rectangular one.
What chairs to choose
Dining chairs should match the table, but they don't necessarily have to be the same. Take care, above all, that they are comfortable. The backrest plays a very important role in this matter. It should stabilize your back and provide healthy and safe support for your spine
And when it comes to design, you can choose from elegant wooden seats for classic interiors, stylish leather models, and modern upholstered chairs in a variety of beautiful colors that are sure to enliven your dining room. The latter will go well with glamorous dining rooms as well as rustic, boho or Scandinavian ones
Dining room decorations
To change the character of your dining room a bit, you can also focus on replacing the accessories and add-ons. First of all, you should choose beautiful tablecloths, which will completely change the look of the table. The table setting is also very important. A modern tableware in a solid color, such as black, or in vibrant shades of orange or navy blue, would be perfect for your dining room. Also choose a beautiful vase and candles for the table and your dining room will not only feel a bit more lively, but cozier as well
Don't forget about the lighting too. The well-chosen one will surely make your dining room shine. A great idea would be an impressive chandelier in an interesting shape hung quite low over the table. Make sure you also have an additional source of light in the form of lamps or lanterns placed around the room. Impressive wall lamps placed on the walls will also look good. You can also decide to install a cornice and LED tape, which will illuminate your interior with soft and diffused light.
Main photo: Infinite Views/unsplash.com