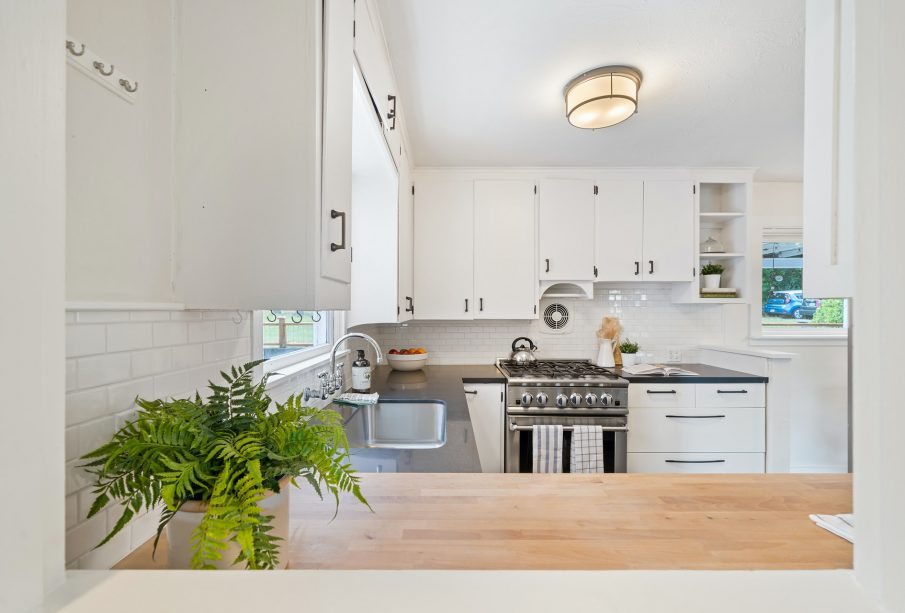 Its bright color will brighten up the interior of any kitchen. It will work well in a minimalist, Scandinavian, modern … and many other dwellings. What is the phenomenon of oak worktop?
Traditional wood in a modern edition
We are used to using wood in rustic interiors, where it is combined with soft fabrics and warm colors. Indeed, the material makes rooms cozier and fits perfectly into an eco style. However, this is just one of its many uses
Oak worktop will enliven loft or industrial kitchen and effectively deprive it of sterile, austere character. Especially in combination with a table made of the same material it will create a visually coherent whole and will allow you to choose any additions. It is also a good solution if the living room or dining room are decorated slightly differently – wood will be the material that perfectly unites these two rooms.
Functionality
Kitchen countertops need to be resistant to a variety of factors, including moisture and scratches, aesthetically pleasing and versatile to fit in with any style of interior. They should also be easy to clean.
If the kitchen really is the heart of the home, then its heart could be the countertop. Oak wood planks are extremely strong and hard, so we can enjoy their perfect condition for many years. They are also valued for the light, yellow-brown shade with which they stand out against wood from other tree species.
Oaks have many subspecies, including red, mossy, and burgundy. They differ in color, shade and grain pattern. All these features allow you to perfectly match an oak countertop to any kitchen, regardless of its decor and adopted color scheme.
Wood vs. other materials
Wood gives a warm, cozy character to the interior, and at the same time, when combined with other materials, it composes a timeless, modern arrangement
One of the most interesting solutions will be replacing traditional tiles over countertops with tempered glass. With minimalist walls in the color of white, gray or black, the glass panel will be a very elegant finish to the whole. It can have the same color as the walls or cabinets, then it will present well with a glossy finish. Matte is better to choose when there is a bit more decoration in the kitchen, especially in more eye-catching patterns or colors.
With an open kitchen, it will be good to refer to the color range of the dining room or living room, so that one room subtly transitions into the other. The most interesting visual effect will be achieved by using a glass panel with a simple geometric pattern
Another material that harmonizes with oak wood is brick. It will create a modern, industrial look in the kitchen, which will slightly warm up the oak countertop. Again, it's a good idea to pair it with glass, which will protect the bricks above the countertops and be easier to clean. A table with a glass top or a decorative crystal chandelier will look equally elegant.
When decorating the kitchen, it is worth betting on a few accents referring to the countertop itself. A wooden bowl for fruit, a flowerpot or a container for cutlery will be a perfect complement to the elegant and modern interior.
Main Photo: Im3rd Media/unsplash.com