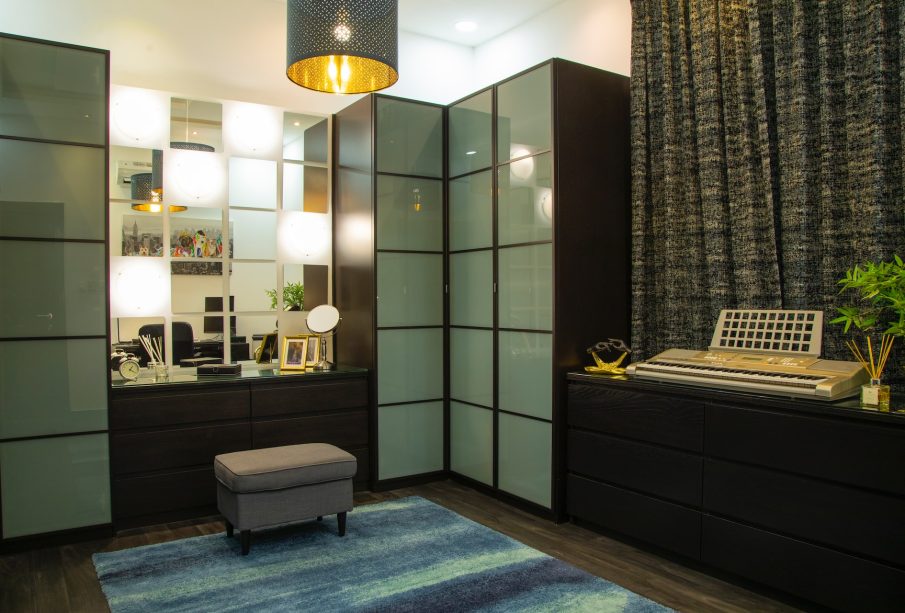 Toilette in the bedroom is a great convenience, so many ladies want to have this piece of furniture at home. How to set it up so that it is functional and blends well with the whole interior?
Toilette in the bedroom is probably one of the favorite pieces of furniture among ladies. It allows you to comfortably do your make-up and is a place where you can keep cosmetics and jewelry. And on top of that, if necessary – it can always serve as a desk as well. It is worth thinking about the positioning of the dressing table already at the design stage, to make sure that there will be a place for it and it will fit into the entire interior.
How to choose a dressing table for a bedroom in Scandinavian style?
If the bedroom is in light colors, Scandinavian style – then a pine dressing table or made of white MDF will be perfect. The best solution will be a dressing table that combines elements in wood and white (possibly still black). The furniture should have a fairly simple, sleek form.
Boho style bedroom – what dressing table to choose?
Boho style is still in vogue, and this applies not only to clothes, but also to interiors. How to choose a dressing table for such a decor? Certainly it is worth choosing a simple piece of furniture, but take care of the accessories, such as a wicker chair, woven baskets, a macramé hanging next to it, etc.
Toilette for glamour bedroom
People who love glamour and glitz certainly feel best in interiors decorated in the glamour style, or "opulent". Here a simple, classic dressing table will not work. In this case, choose a luxurious piece of furniture, perhaps with a large, ornate mirror, in gold and brown colors, in streamlined shapes and with an upholstered stool. An elegant table on golden legs with a round mirror in a gilded frame is also a good idea.
Toilet in a minimalist style
Monochromatic, minimalist interiors are still quite popular. And it is not true that such rooms must be associated only with wood and white. Here it is important that the furniture has a very simple form and finishes. Ideally, it should be in light shades, beige, white or warm wood.
A retro toilette? Ideal for princesses
In bedrooms that would not be ashamed of princesses, a dressing table with carved legs and a mirror frame will work best. The stool should, of course, be lined with red or pink velour, and the tabletop should not be missing a charming vase of flowers.
Pay attention to make it functional
In addition to being pretty, the toilette should be functional. If we are making a custom-made piece of furniture, it is worth thinking about an opening mirror, behind which we can keep, for example, hung jewelry or cosmetics.
A lacquered black dressing table is certainly pretty, but it should be remembered that it is also not very practical – you will see fingerprints on it, collecting dust and cosmetics that fall off. So if we dream of such a thing, it's worth thinking that the top should be covered with a special mat, which is easy to clean.
It is worth ensuring that the drawer of the dressing table has plenty of compartments for cosmetics. This will make it easier to keep things in order. You can buy the containers yourself, they are available in many stores with furniture or interior finishing products. 
main photo: unsplash.com/Mahrous Houses