How to create a picture gallery in your home?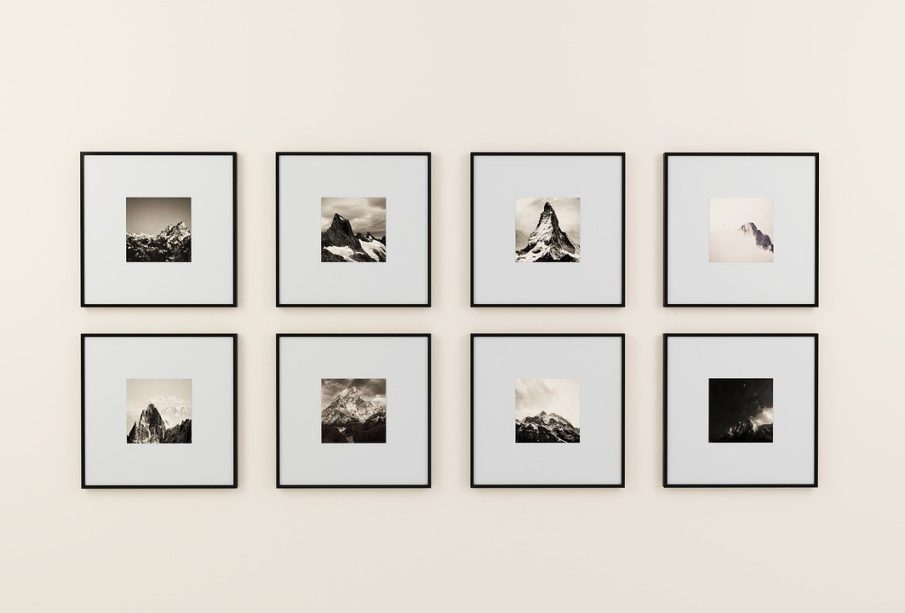 Wondering how to develop an empty wall at home? We suggest creating a home picture gallery on it. It's a great way to highlight an arrangement in an effective, yet cheap and simple way.
A wall gallery will enliven empty, austere spaces, add charm and make them look cozier. Such decorated spaces often attract the eyes of guests, so we should pay special attention to them during the arrangement. Our private gallery can consist of favorite family photos and those brought back from travels, posters, illustrations, abstract graphics, reproductions of famous paintings or even our own drawings. Let's not focus on what's trendy, but create a gallery that fits individual preferences, interior design and tells a story about us, such as highlighting our interests or evoking holiday memories.
We can arrange a home gallery in any room – living room, bedroom, study, hallway, or even in the kitchen. In this case, we are limited only by our imagination.
Where to start creating a home gallery?
To begin with, choose a suitable place. The best will be an empty wall in any room. Do not worry if you do not have a whole free wall – a wall gallery will look beautiful over the bed, table, dresser or along the stairs, the important thing will be the skillful use of free space. We need to measure the chosen place carefully to know how many paintings we can afford.
Once we have chosen and measured the space, we can get down to the most enjoyable part of creating a home gallery, that is, finding the graphics of our dreams. In search of inspiration, we should browse art and design books, photo albums, interior design blogs or social media profiles run by architects and interior decorators. A real mine of ideas is also Pinterest. Let's choose images that will correspond to our passions and tastes – travel lovers may like motifs with maps, cinema lovers may like movie posters, and those in love with plants – illustrations with flowers. In the home gallery it is worth placing minimalist graphics or watercolors depicting landscapes and still lifes. If you decide to use photographs, make sure they are consistent, for example, by applying the same filter to them before printing. Photos kept in black and white will certainly look elegant.
We can place the selected images in frames. They do not have to be the same size, but should have something in common, such as shape or color. Black, white and wooden frames are more subdued, they do not attract the eye like gold, silver and metallic ones.
How to arrange images on the wall?
Before hanging the chosen graphics on the wall, plan their composition, this way you can avoid chaos and the impression of carelessness. It is a good idea to lay out the gallery on a piece of paper, taking into account the shape and size of the frames. In a central arrangement, the largest picture is placed in the center, and smaller ones are placed around it. In a horizontal layout, the gallery is aligned with the edges of the furniture, and all the graphics are hung in a single line. We can also create a composition in the shape of a square or rectangle. Remember to keep equal spacing between the frames.
main photo: pixabay.com/StockSnap