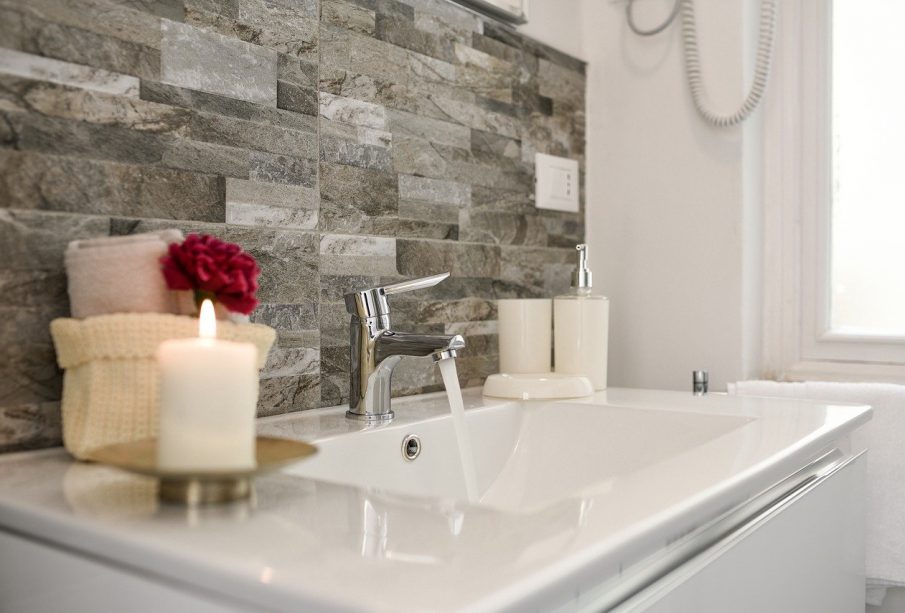 Who said that a small bathroom has to be cramped and unelegant? Get to know some simple methods thanks to which you can work wonders even on a small area!
Optical enlargement
A small room can be quite a challenge. If you want your bathroom to look elegant and tasteful, you need to think about how to sensibly decorate and arrange it. In case of small areas, it is best to optically enlarge the interior. This is quite a challenge, but with the help of several proven methods, the end result will be phenomenal. The most important thing in this case is the arrangement of furniture and equipment. Remember to stand them in a way that will provide as much free space as possible. The wall opposite the entrance is particularly important – if there are too many cabinets, shelves or hangers, the bathroom will look cluttered
It is also not a good idea to place a washing machine at the entrance. A good solution is to place a washbasin with a large mirror above it. It is also a good idea to place all the furniture on the ceiling – the less equipment on the ground, the more spacious your bathroom will seem. It is good that the furniture is not massive, but rather light and simplistic. Minimalist, solid forms with a glossy finish and reflecting light will work great.
Bathtub or shower?
In case of small bathrooms, a shower cabin is the best solution. Freestanding ones with glass doors and glass screens without a shower tray work well here. These walk-in shower enclosures save a lot of space. However, if you are a fan of long baths and you prefer to have a bathtub in your interior, it is worth choosing one that has storage. This will replace a piece of furniture and give you extra storage space for your toiletries or towels. After all, the most important thing is that the bathroom is not only aesthetic and elegant, but also comfortable and functional
Sparkle on the walls
Large, shiny tiles are a great solution for small rooms. They will reflect light brilliantly, which makes the space seem larger. Color also plays an important role. Cool and light shades such as ash, white, blue or purple will be best, as they optically distance the area they are on. It is also important that the tiles are plain – colorful patterns, despite their trendy and interesting design, make the space look smaller, so if you want them to appear in your interior, place them only on one of the walls. When it comes to the floor, tiles can be either glossy or matte. Tiling the floor in black and white diamonds is also an interesting option. The ceiling is also worth considering. You can paint it with a classic white paint, but a spectacular solution will be, for example, making it of a glossy panel.
Lighting
If you want your bathroom to shine, you have to take care of its lighting. For small interiors, a mere ceiling lamp or a lamp over the sink is not enough. In order to make the area seem more spacious, it is worth considering diffused light sources, for example suspended ceiling and wall lamps, as well as illumination of furniture and bathtub. Remember also, that light in a bathroom, apart from optically magnifying, should also introduce a comfortable and relaxing atmosphere conducive to rest. Therefore, it is important that at least one of the light sources is as close to natural light as possible.