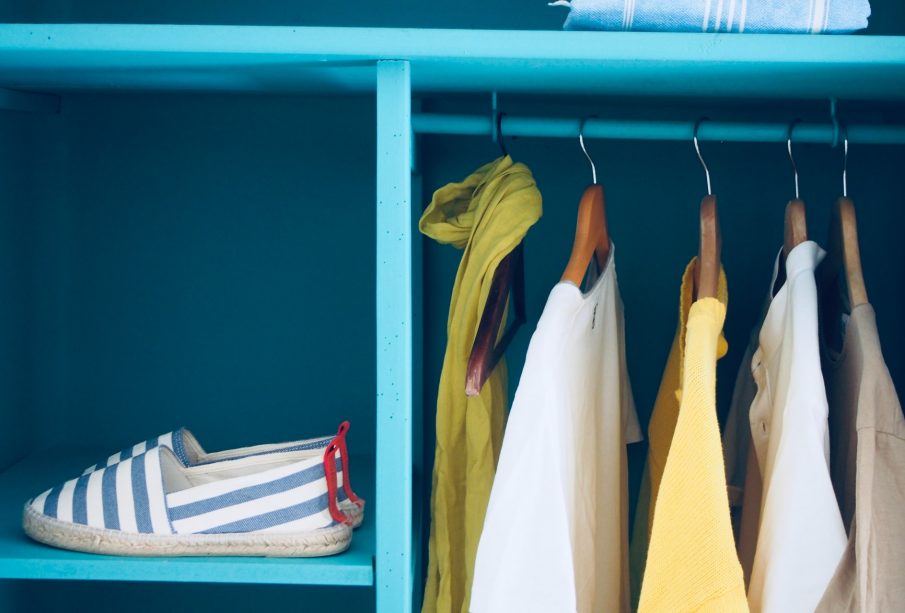 We usually allocate a closet, dresser, dressing table… or even other furniture for our closet, but still have trouble finding anything in it. Find out how to fix that.
A closet with a dressing table function
A closet with a closet function is an ideal solution if you care about saving space, easy maintenance of order and aesthetic visual effect. But before you get to organizing it, go through everything you'll be storing in it. You may find things you haven't worn in a while because you don't like them anymore or because they are no longer wearable. Getting rid of such things (even by donating them to the PCK) will certainly make further organization easier.
If you don't have room for winter clothes in the summer and vice versa, always separate them in your closet according to their "seasonality". This way you won't waste time looking for a summer blouse among thick autumn sweaters. Those that are not currently used can be folded and placed on the highest shelf above the bar.
A practical solution will be buying a closet with a mirror on one of the door wings – you will gain a free fragment of the wall, thanks to which you will be able to buy a slightly larger piece of furniture. On the other wings you can hang hooks facing outwards and inwards. If you don't want to worry about the opening doors taking up too much space, opt for sliding or folding doors
Remember that you'll need shelves as well as a rod for hangers (and a smaller one for pants), space for shoes, accessories, and sometimes jewelry. It is worth to get a set of boxes, in which we can collect various trinkets
Many stores offer special inserts, thanks to which storing shoes will be much easier. Others may be used as separators on shelves and in drawers. For added convenience, it's a good idea to choose pull-out shelves so you don't have to search all over for one thing.
Divide your closet into sections that separately house shoes, coats, blouses, accessories and more. If different items get mixed together, even with the best organization, the closet will look cluttered. For an aesthetically pleasing look, arrange them first by type, then by season, and then by color. Make use of extra space for better space saving. Under the hangers, for example, you can arrange boxes and in them your shoes.
Other tips
A closet with a closet function is one of the best solutions, but besides it you can use some tips. Develop a free space under the bed and put there boxes with shoes or clothes that you won't wear in the current season. Instead of a chair, place a pouffe, which is also a stash for trinkets
Install shoe shelves on the inside of your room's door. And be sure to check out how to fold your clothes so they take up less space. You can learn this from Marie Kondo, a Japanese housekeeping expert. Hang hooks on your closet door so you can hang handbags or scarves from them. Another clever solution is vacuum bags, which will save even more space.
If you have a lot of jewelry, it is best to allocate a separate organizer for it. Coming back to the closet function – on one hanger you can hang, for example, a dress and a jacket or a blouse and a cardigan. Another option is to hang another on one hanger. With such layers, you will gain more space on the rod itself.
Main photo: jordi pujadas/unsplash.com