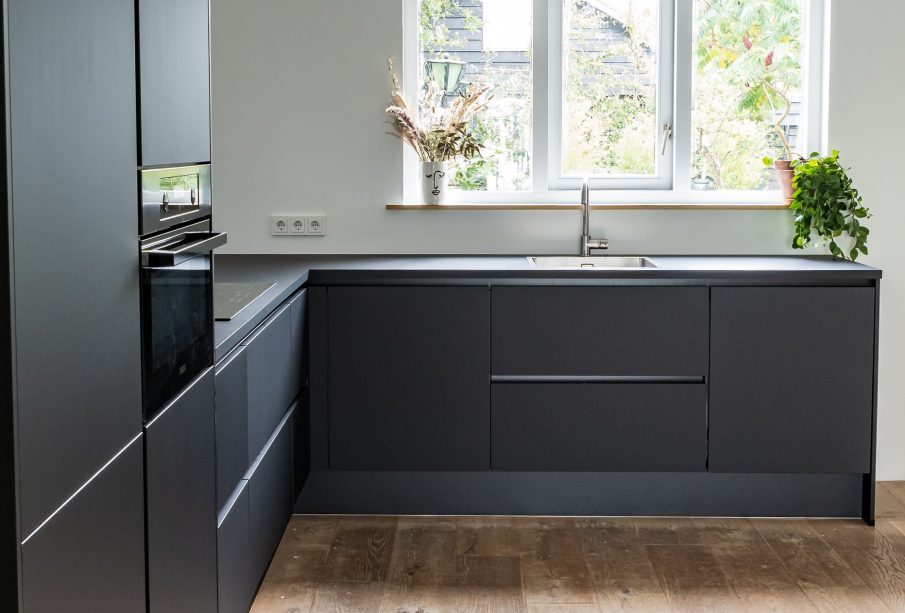 Are you dreaming of beautiful black combined with gold accents in your kitchen? Are you wondering whether such a solution will really work in everyday use? We'll be happy to dispel your doubts!
Until now we have tended to associate the kitchen with space that is more utilitarian than visually appealing. Designers have been coming up with new solutions to make our kitchens a little more appealing. Recently, the introduction of black and gold to this space has proved to be a huge hit, which is popular among lovers of elegant, sophisticated and original interiors
Black is an absolutely unique color. It is associated with depth, darkness and strength. Its use as the main motif in the kitchen has transformed the vision of it as a peaceful and often inexpressive. Today we like black for the specific clarity, uniqueness and modernity it brings with it.
Black and gold – inspirations
Many people today in their space designs decide on furniture fronts in black. Such a solution definitely gives the effect of prestige, which makes the guests stunned and delighted
To add a bit of variety to designs dominated by black, it is worth using accessories in other, contrasting colors. If you want your kitchen to exude elegance and taste, don't be afraid to go for the obvious – gold will be the perfect companion for black!
Composing the space in such a style will give us a guarantee that we will keep moderation and tone down the heaviness of black, while not giving the impression of excessive gold splendor. Kitchen in such a climate looks phenomenal.
Matte variation
If you still have some doubts about whether it's worth it to decide on such an extravagant kitchen – we suggest another interesting solution. Consider matte finish for black surfaces of your furniture. This color then takes on a specific format, which becomes a great background for eye-catching gold
In kitchens arranged in this way, it is worth betting on minimalism – you do not need to decorate such a space with any accessories. Use an original combination of specific colors to create a visual wow effect.
The practical aspect
The functionality of such a kitchen is absolutely no different from the one you know very well. Regular cleaning of the worktops, furniture and other items in the kitchen is essential. Make sure to thoroughly clean the inside and outside of the cabinets from time to time. Even the most beautifully arranged space that is neglected and dirty will not look good.
And black and gold are not colors that are particularly susceptible to dirt, especially permanent dirt. However, it all depends on what specific materials your furniture, countertops or kitchen accessories will be made of. If you invest more money in crafting your kitchen, you will surely enjoy its aesthetic and luxurious look for many long years.
Main photo: Sven Brandsma/unsplash.com