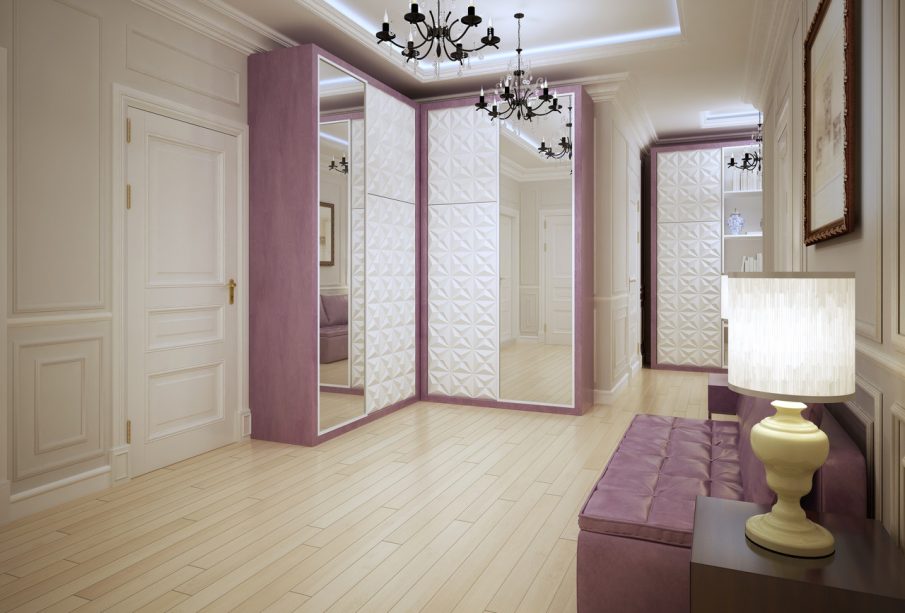 Mirror hung in the room optically enlarges its surface, and what result gives a mirror on the ceiling? This is an unconventional solution that looks phenomenal, and properly mounted on the ceiling can be very impressive. Thanks to the ceiling with mirrors, its surface becomes smooth, which gives the interior an elegant and modern look
An interesting alternative to traditional plaster or suspended ceilings are modern solutions that use the latest technology. Stretch ceilings are an excellent way to arrange a unique and exceptional interior. A smooth sheet, which is mounted on the ceiling, makes the ceiling look aesthetically pleasing and the mirror effect optically enlarges the room. It is a great way to renovate damaged or old ceiling in a simple and non-invasive way. Learn more about this method
Mirrors on the ceiling – which interiors do they suit?
Mirror ceilings are not yet a popular solution in domestic spaces. Instead, they are often used as a design element in boutiques, art galleries and museums. However, more and more people see advantages in installing a ceiling mirror in their living room or bedroom. A mirror on the ceiling reflects the sunlight coming into the room, making the room extra bright. This is an excellent method to optically enlarge a low and dark apartment. We feel better in bright rooms, it is easier for us to rest in them and we are more willing to spend time there. Using mirrors on the ceiling gives a lot of arrangement possibilities. In classic rooms mirrors framed in a decorative frame will look beautiful. In a modern space, a frameless mirror ceiling that can be mounted on a suspended ceiling will look better
Mirror ceilings – a fashionable addition in interiors
A mirror suspended in a room is a very chic element of any interior. Mirrors are no longer found only in bathrooms or hallways, and in addition to their practical side, they also play the role of decoration. The ceiling, on which the mirror is suspended, gives the room an original and unconventional look. In addition, the mirror reflection allows you to get the optical impression that the room is larger and more spacious.
Stretch ceiling – a simple way to get a mirror effect
A simple way to get a mirror effect on the ceiling, is to use the method of stretch ceiling. This is a type of suspended ceiling, which is fixed parallel to the plane of the ceiling proper. In this case, the height of the room is slightly reduced, but the undoubted advantage is that behind the coating you can hide the irregularities of the old ceiling. Thanks to mirrors on the ceiling, you can quickly get an aesthetic appearance of the room, with very little effort.
How to install a mirror on the ceiling?
Many people may be afraid that the suspension of the ceiling of mirrors can pose a danger to household members in case it falls off. Therefore, to make a mirror ceiling, a stretched coating is used, which is covered with a layer that imitates a mirror. This is a completely safe solution, which is characterized by durability. Stretch ceiling technology is very light, one square meter of surface weighs only 200 mg, so there is no fear that the ceiling will be overloaded. We can be sure that the ceiling will never come crashing down. Tensioned ceilings are manufactured from plastic or aluminum profiles. The mirror coating is stretched over a selected surface of the ceiling or wall. An interesting solution is to install a mirror ceiling only in a selected place, for example, in the recess of the false ceiling
Advantages of a stretch ceiling
Easy and fast way to install on the chosen surface
Perfectly smooth and aesthetically looking finish of the ceiling
Hiding unevenness, electrical and plumbing structures running through the room
Durable and resistant to cracking arrangement solution
Many possibilities, personalization, matching pattern and color to individual customer needs
Stretch ceiling is waterproof and fireproof. This solution allows you to easily maintain cleanliness in the room, because the coating does not settle dust
Using this solution makes the room is soundproofed