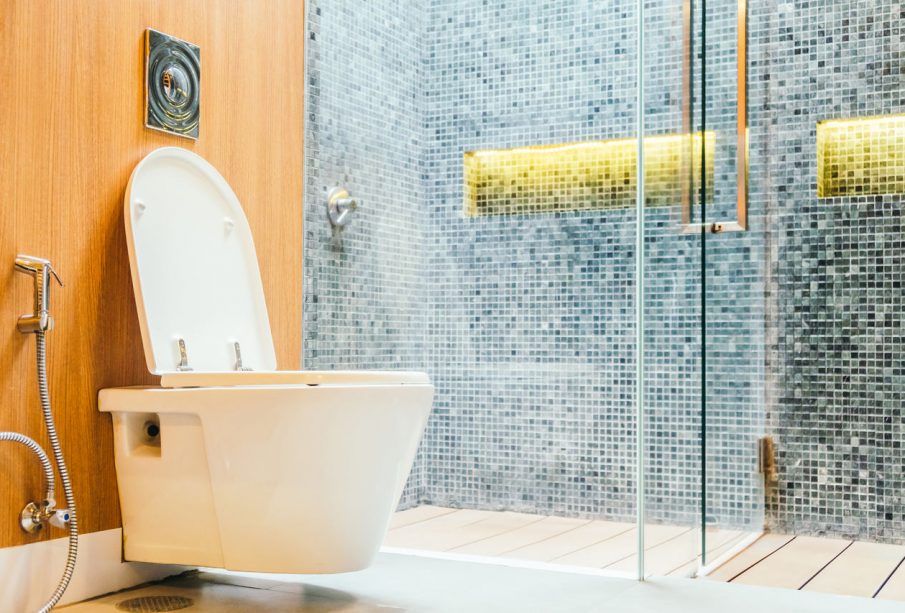 It is certain, the mosaic is back in style! Small ceramic, stone or glass tiles give a wide range of arrangement possibilities, increasing the aesthetic value of the bathroom. How to use the mosaic in this interior?
Advantages and disadvantages of ceramic mosaic in the bathroom
Ceramic mosaic has been valued for years for its original appearance and decorativeness. You can use it in the shower, on the floors, walls, or to increase the aesthetic value of the bathtub housing. It is perfect for all surfaces with unusual shapes (such as rounded shower trays, columns and pedestals). Thanks to the mosaic we can easily and visually attractive way to separate individual functional areas. Of course, this is not the end of the advantages of this solution.
The advantage of mosaic is high resistance to moisture and temperature changes. Small, charming tiles are easy to clean and easy to install (thanks to the attachment of patches, paper or mesh usually in the shape of a convenient to arrange a square with dimensions of 30 × 30 cm). The advantage of ceramic mosaic is also its versatility. A properly selected pattern will make it easy to incorporate it into a bathroom decorated in any style
In addition to the ceramic variant, we can diversify the decor of the room, deciding on a glass mosaic, wooden, metal, natural stone, semi-precious or mother of pearl. Manufacturers offer us matte, semi-matte or glossy tiles, which provide countless design possibilities! When it comes to shapes, modern mosaic is available in the form of a rectangle, square, triangle, fish scale, arabesque, circle, rhombus or very fashionable in recent years hexagon.
So what are the disadvantages of this solution? According to supporters of large tiles, despite the slices and grids, arranging a mosaic is more labor-intensive and, for the final effect to be truly aesthetic, we must demonstrate a creative approach, because small tiles can not be located in a random place in the bathroom.
Another disadvantage of mosaic is its price. Wanting to introduce this decorative element to the interior, we must be prepared for a greater expense than in the case of standard tiles. Price for a sheet of ceramic mosaic (30 × 30 cm) can range from 40 to even 400 zł. On the other hand, for decent quality tiles of classic size, we will pay less than 100 PLN per m².
Mosaic in the bathroom – the most beautiful inspirations
If you want to bring a bit of elegance into your bathroom, it is worth using a mosaic strip under the shower – this role will be best performed by tiles in the shape of fish scales or rectangles in gold or silver with a glossy finish. An interesting trick is also arranging small honeycombs on the part of the wall, where the sink and the mirror belong
The impression of lightness, purity and subtlety will be given by hexagonal tiles in blue or white color. People who want to obtain the effect of exclusivity, can combine the mosaic with decorative strips, in color corresponding to some of the tiles.
Another proposal for the use of mosaic in the bathroom is lining the entire shower space with sheets of oval elements in the principle of strips in two contrasting colors (eg, white and navy blue). This arrangement procedure works well in the interior with a small area.
We hope that our article will encourage you to use ceramic mosaic in your bathroom and will make the room acquire an individual character, and spending time there on hygiene treatments and care will be a real pleasure for each household member.
>> See also: How to install hexagonal tiles step by step
If you don't feel up to designing your bathroom yourself, or you don't have enough time for that, you can always use the services of a professional. An experienced and creative interior designer will surely offer you some attractive and inspiring solutions for mosaic decorations in the bathroom.