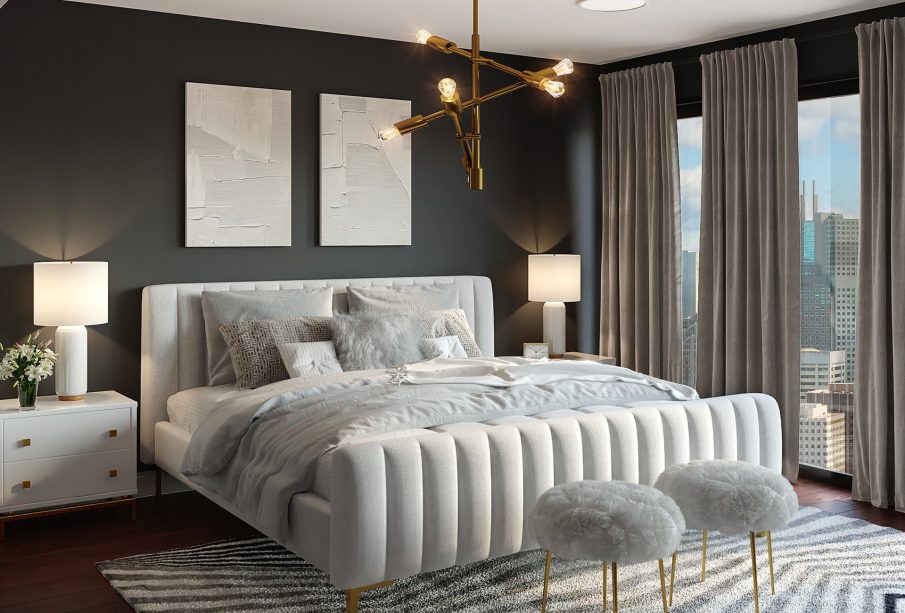 A bedroom should be, above all, a comfortable place of rest and tranquility. However, today's arrangements also take care of the aesthetics of the interior. How to arrange a bedroom to make it a real zone of relaxation and delight? One of the elements, that will not only decorate, but also pleasantly warm up the bedroom, may be a velvet bed.
Velvet is particularly pleasant to the touch, warm and soft material – already in itself can be associated with relaxation, comfort and elegance. With its delicate sheen and reflective structure, this material can add a touch of luxury to your interior. In the past, velvet was regarded as an exclusive fabric, reserved for the upper classes. With time, its use for interior decoration or upholstering furniture became more common. Nowadays, after years of oblivion, velvet is experiencing its renaissance and again is more and more willingly used material in interiors. Here is why it is worth choosing a bedroom bed finished with this fabric
Velour, velvet and velvet – are they the same material?
These three names are sometimes used interchangeably but in fact, they are three slightly different fabrics. They are all varieties of plush and belong to the group of fabrics with the so-called pile. The method of weaving is similar. The differences consist mainly in the method of obtaining a fluffy pile, its length, type of fibres and thickness of the fabric
Velvet is the thickest and stiffest of the three materials. It is also characterized by the greatest lustre. Velvet is a fabric with shorter pile, thinner and more elastic. It is also slightly less shiny than velvet. Velvet, in turn, has the longest pile of the whole group and its structure resembles hair rather than moss, as in the case of the two previous fabrics
Velvet bed in the bedroom
Velour is a frequently used upholstery material due to its flexible structure, durability and aesthetic appearance. It has become a trend in recent years and its popularity continues to grow. The delicate sheen of the fabric makes furniture upholstered with it look exceptionally elegant. It is willingly used in interiors of different styles. Currently beds upholstered with velour are a real hit – this fabric adds warmth to the interior and gives the impression of coziness. Below you can find some examples of different bedroom arrangements with velvet bed in the main role.
Velvet bed in glamour bedroom
Velvet because of its structure and subtle gloss is naturally associated with exclusive interiors. That is why it will be a perfect solution for a glamour bedroom, where it will become a noble base, style indicator and decoration in itself.
Velour bed in a modern bedroom
This material looks good not only in interiors that like glitter and glamour. Velour will also work well in modern interiors – it all depends on the form and color. If you choose simple, minimalistic shape and the right color, velvet bed can be a perfect base for a modern bedroom.
Velvet bed in eclectic bedroom
A bedroom that combines different influences and styles is sure to love a bed covered in soft, pleasant velour. An eclectic bedroom and a velour bed is actually a sure success. The wide range of colors to choose from and the multitude of forms and styles of contemporary beds will allow us to create a successful composition.
Main photo: Spacejoy/unsplash.com