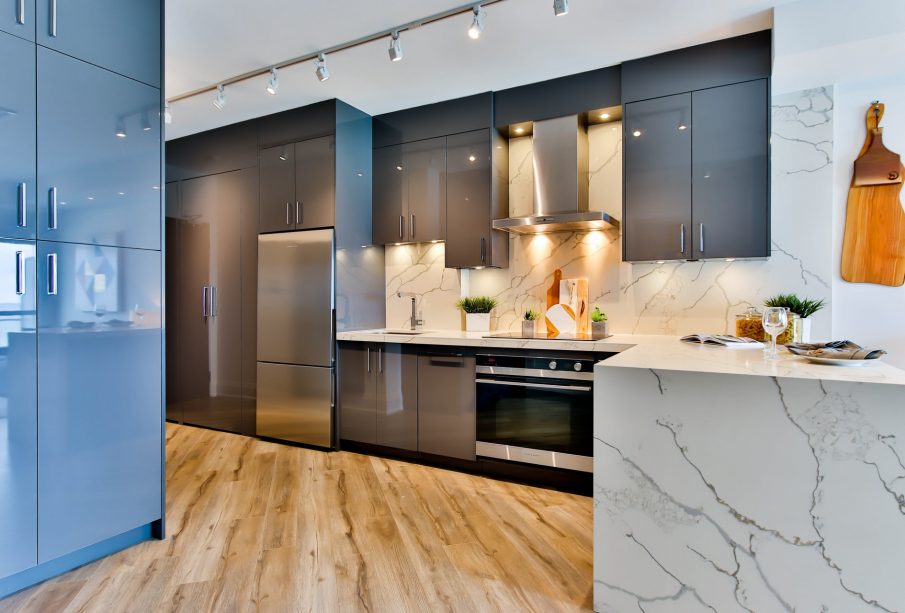 Modern kitchens are usually characterized by a simple and closed form. That's why a built-in kitchen is such a popular solution. Such appliances made to measure and hidden are not only very functional, but also look exceptionally aesthetic. So find out all the advantages of built-in kitchens.
Tailor-made kitchen
Undoubtedly the biggest advantage of built-in kitchens is the fact that each project is carried out individually. So you can be sure that your kitchen will be perfectly tailored to you and your needs. Thanks to that you have full freedom in composing the built-in. For maximum comfort and use, you and your planner can even take individual characteristics into account, such as your height or right- or left-handedness
In addition, built-in kitchens also offer unlimited design possibilities. With conventional kitchen furniture and appliances, you're usually very restricted in terms of the size and fit of the equipment. If you opt for a made-to-measure kitchen, however, you won't have this problem at all
Moreover, thanks to such a solution, the space automatically takes on a minimalist and exceptionally elegant look, and all the equipment finds its permanent place. You also have a huge range of options when it comes to colors and types of fronts, and you can go a little more crazy with the decorations. The kitchen will become very individual and will fully reflect your style.
Built-in appliances as a way to optically enlarge the interior
Built-in kitchen appliances are an extremely functional and practical solution for both very large kitchens and much smaller ones. It's worth remembering, however, that it works particularly well in small spaces
Why? Thanks to the fact that all household appliances, such as a fridge, dishwasher or a stove will be built-in and hidden behind cabinet fronts, the whole space will become much more homogenized, which will optically enlarge the interior. If you also use a so-called high-gloss finish, the furniture will reflect more light, making the kitchen seem even more spacious. Built-in appliances are also a great solution for apartments, where the living room is combined with a kitchenette. Thanks to the fact that all the appliances will be covered, the whole room will gain in harmony and coherence.
So if you are looking for household appliances suitable for built-in kitchens, make sure to check out the offer of Elektrohome online store
The advantages of built-in appliances
Built-in appliances are much more practical than traditional ones. You will feel it especially in case of the oven. If you decide on a modern, made-to-measure kitchen, you won't be stuck with an oven connected to a gas stove. So you can place it wherever you want. You can be sure that an oven mounted at eye level will make using it much easier and more efficient
Plus, a separate cooktop or induction hob looks more aesthetically pleasing than a large gas stove, and it takes up much less space than a freestanding model. You'll also enjoy the benefits of built-in appliances when it comes to your microwave oven, as it will save valuable countertop space. With built-in appliances, you'll also have a lot more storage space.
Main photo: Sidekix Media/unsplash.com