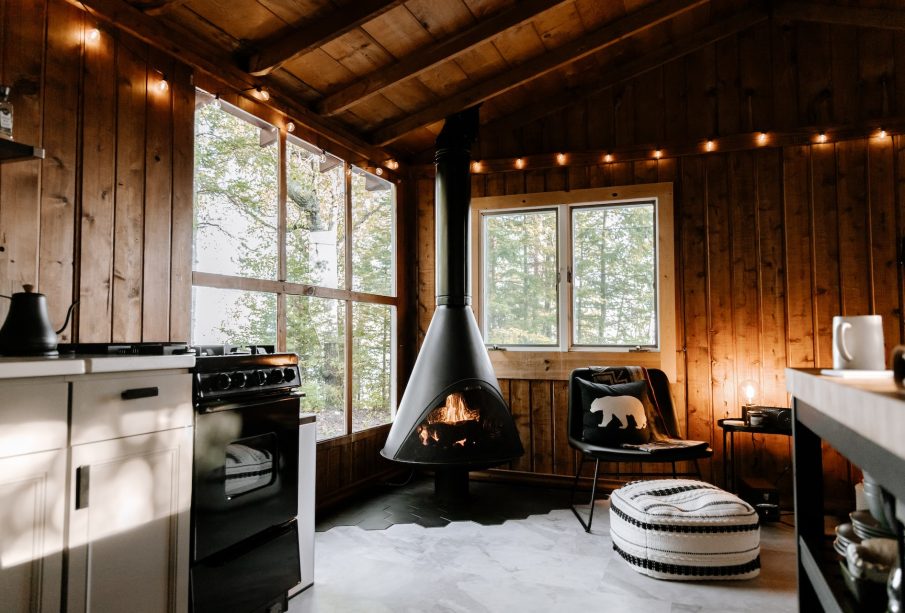 A living room with a fireplace is something that many people dream of. How to arrange such an interior to make it truly unique?
Nothing adds to the charm of a living room like a fireplace. Nowadays it is often built into the wall, but there are some people who nevertheless prefer the free-standing one, because it is said that such a one has a "soul". So how to create a space to go well with such a fireplace?
Classic living room with fireplace
The easiest way to decorate a classic living room with a free-standing fireplace. In this case, it's best to set it in a central location, with some people even choosing to forgo the TV to set it opposite the sofa and coffee table. However, it is not necessary to give up watching your favorite series or movies. For example, you can place two sofas opposite each other, a coffee table should be placed between them, and a fireplace should be placed just against the wall nearby. The important thing is that it should be at such a distance that you can warm up and calm down by it, looking at the glowing logs.
Wanting to enclose a free-standing fireplace, it is best to bet on stone or marble. Such a solution may not be cheap, but it will certainly look elegant, and will serve us for many years.
In the case of a classic living room with a fireplace, it is also worth investing in wooden accessories and a rocking chair, on which will be arranged a blanket matching the pillows on the sofa. The whole thing will look idyllic, friendly and undoubtedly atmospheric.
Modern living room with a free-standing fireplace
Contrary to appearances, a free-standing fireplace will also work well in a modern living room, which many people associate with a not very cozy interior. Nothing could be further from the truth, just choose a fireplace with a simple form or a heating goat that is returning to favor. This type of fireplace is worth placing on the side wall, then it will not only add coziness to the interior, but also diversify it.
Ideally, a modern living room with a free-standing fireplace should be in bright colors. In such an interior a large, dark corner sofa, for example, on wooden legs, will work well. If we are afraid that the whole will look overwhelming, then it is worth thinking about a glass table, which will add some lightness to the living room.
Nowadays, Brazilian-style accessories, such as chairs mounted on hooks or macramé, are also fashionable, but in the case of a modern living room you should think properly about hanging them. Such accessories will go well with a free-standing fireplace.
main photo: unsplash.com/Hans Isaacson