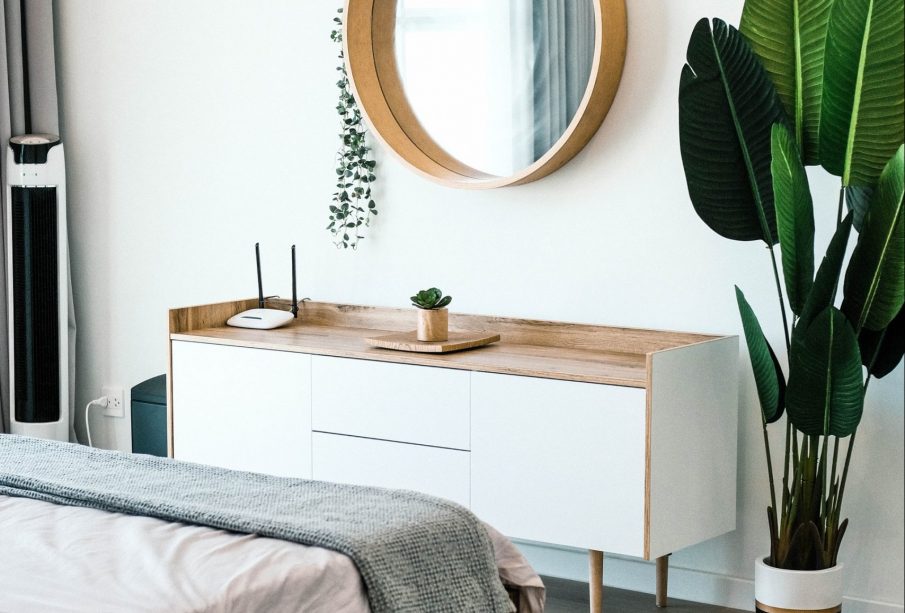 A dressing table in the bedroom is a dream for many people. It is a great solution for both small and larger interiors. Here are our suggestions for bedrooms with a dressing table.
Is a dressing table a solution for every bedroom?
It may seem that a dressing table in a small bedroom or in an attic is an impossible idea to realize. However a little imagination is all it takes to arrange such a space well. The dressing table itself does not have to take up a very large space. With proper organization, even a small table and a round pouffe will perform perfectly in this role.
Toilets to match the style
Often we do not know which dressing table to choose to match the style of our interior. The choice of models available on the market is very large, so you can certainly choose a dressing table to match the entire arrangement.
Scandinavian style bedroom
A wooden dressing table is one of the safest choices when it comes to matching interiors. It will look good in both simple, minimalist interiors and those more distinctly arranged. White legs and wooden top of the dressing table will look beautiful in a Scandinavian style bedroom. Add a mirror in a wooden or gilded frame and a wicker chair and the dressing table is ready. If you want decorations, it is best to use potted flowers or a photo in a frame.
Boho style
Boho style is becoming more and more popular in bedroom arrangements. Toilet in this style will also be a great idea. The furniture itself can be minimalistic, because the most important thing here will be small details. Here will also look best braided wicker chair. On the dressing table it is worth placing baskets and airy decorations.
Minimalist style
This is also a very common choice when it comes to interior design. Economical form and limited color palette will find a perfect match with a white dressing table. For bedrooms in this style, beige, gold and gray colors are most often chosen, so such a dressing table will fit perfectly into the arrangement. For this, poufs to the dressing table will be enough.
Retro style
Here you can bet on two types of dressing tables. A mirror in a carved frame, a stool padded with velvet and fresh flowers in a vase will look beautiful. The dressing table may be white or grey. It will ideally match darker arrangements.
The retro furniture may also be made of dark wood, have turned legs and embossed pattern. In this version, it will be suitable for vintage climate.
Glamour style
This style is associated with high quality materials, elegance and modernity. Toilet in such an interior will look best if it has streamlined shapes and high-gloss top. An interesting solution may be an upholstered dressing table. Glamour pouffes will be perfect for it.
Modern design
This is simplicity combined with elegance and perfection of form. A wooden piece of furniture with a wider top will work best as a dressing table. However, it should be in toned down colors and match the look of the whole arrangement.
Carpet
To create a cozy atmosphere, place a soft rug next to your dressing table. For a retro or glamorous bedroom a fluffy, grey or white rug will fit best, and for a more minimalist interior a simple rug, for example with geometric black and white patterns, is best. For boho interiors it is best to go for more original models – fringes are welcome.
Lighting
Toilet is used primarily to apply makeup, so proper lighting is essential. Some models have built-in lamps. In other situations, it is worth mounting a light bulb near the mirror or set a desk lamp on the countertop.
mAIN PHOTO: Minh Pham/unsplash.com