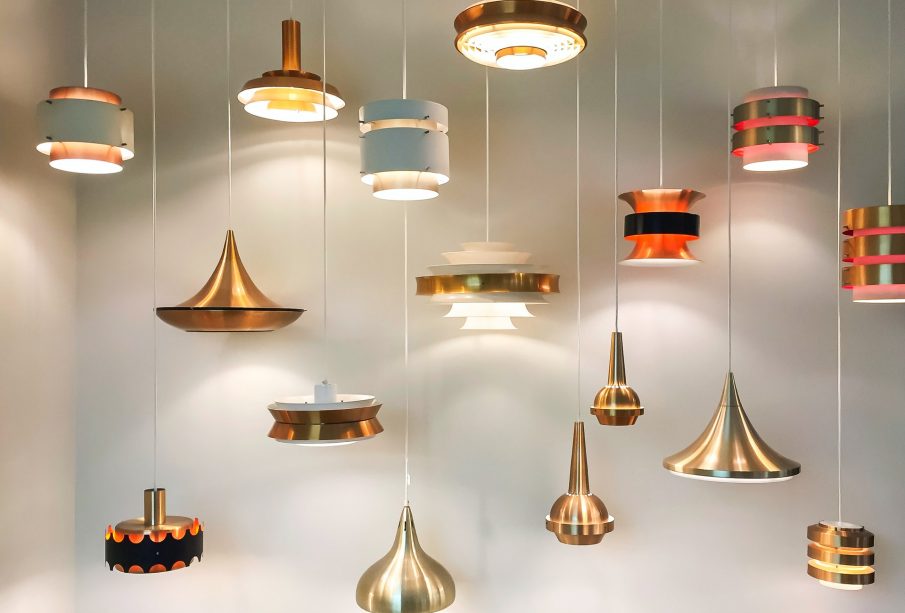 A dining room lamp should combine aesthetic and practical function. What kind of lighting will work best over the dining room table? Let's check it out!
Dining room table lighting – hanging lamp or plafond?
Many people have a dilemma, what works better over the dining room table – a hanging lamp or a ceiling plafond? In most cases, a hanging lamp will be a more sensible choice. Plafond due to its nature is recommended only for lower rooms (it does not illuminate the table as well as the hanging lamp).
Which hanging lamp will work over small and large tables?
Remember that the lamp should match not only the interior décor but also the dining table itself. Over a small table we can hang single or double pendants with glass lampshades or material lampshades. On the other hand, owners of magnificent tables for 6-12 people can consider the purchase of lighting of large dimensions. In such a case, spectacular, modern chandeliers or hanging lamps with shiny metal lampshades suspended at different heights will be perfect.
What to pay attention to when choosing a table lamp?
The hanging lamp over the table should give a diffused light, so that none of the people sitting at the table feel uncomfortable because of too aggressive lighting. This is especially important if you have a shiny table such as one with a glass top.
What is the optimal color temperature? According to experts, it is worth choosing bulbs that give white light (3000-3500 K). Depending on your preferences you can use any source of light over the table. Both compact fluorescent lamps and light-emitting diodes (LED) work well. Halogen bulbs are not recommended for lamps hanging low over the table, as they emit too much heat.
At what height over the table should the lamp be hung?
In most cases the optimal solution will be a lamp hanging around 55-60 cm above the table top. However if you decide to buy a spectacular table lamp, which is to be an eye-catcher, it is worth to install it higher, e.g. 75-90 cm above the table top. A great option are lamps with adjustable height.
This type of lighting can be conveniently lowered and raised, adjusting the height above the table top e.g. to the time of day, number of people at the table, or character of the occasion.
Recommended models of pendant lamps over the dining room table
Lighting manufacturers offer a wide selection of pendant lamps in various styles. What models are currently in vogue? Long, rectangular lamps inspired by office fittings are very popular. They harmonize perfectly with modern interiors. They are perfect not only for family meals, but also for reading books or working.
There is also no shortage of fans of designer lamps of fanciful forms. A great example are models resembling the shape of a doughnut – they fit perfectly to an oval or round table, which is also enclosed in a circle outline.
As the fashion for loft style interiors continues, models that achieve high sales results are lamps consisting only of a cable and a decorative bulb, which perfectly emphasize the industrial spirit of the interior and at the same time are affordable.
We hope that with our practical advice and inspiration you will easily buy a dining room lamp that will optimally illuminate the table, while being a beautiful decoration of the room.
Main photo: Etienne Girardet/unsplash.com