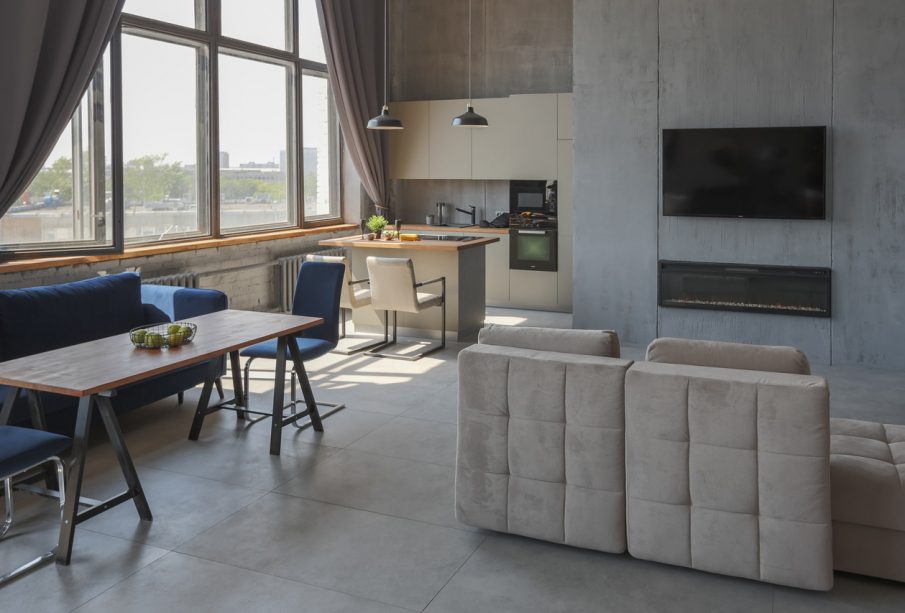 Ingenuity and creativity of interior decorators makes use of well-known materials in new, often surprising ways. This time such a solution are veneered stone panels, which perfectly fit into the atmosphere of an elegant and industrial living room. It is a kind of wall decoration, which is made with the help of special technology
Stone veneer finds more and more followers, especially among lovers of unconventional and luxurious interiors. Many people are looking for a suitable material to finish walls in their home. Stone is a great alternative to popular wallpaper. It is characterized by high durability and resistance to damage as well as original design
What is stone veneering?
Stone veneer is a typically decorative material. It is very thin, veneer sheets are usually about 2-3 millimeters. It can perfectly decorate the wall, it is enough to stick the sheet on a surface of our choice. The process of their creation consists in, gluing a thin layer of slate to a primer, composed of polyester resin and fiberglass. Stone is a unique material for interior design because each time it undergoes slight changes in color. As a result, a living room in which a stone veneer was applied, acquires an original and unique look. Such decorations are perfect for open-space living rooms, where the wall decoration will be properly exposed. Veneer has a wide range of applications and is also used in the decoration of aquariums, fireplaces or furniture fronts
What are the benefits of using stone veneer in the living room?
The advantage of stone veneer is that it is lightweight and easy to install, while at the same time it is a durable and solid material. The weight of 1 square meter weighs only about 1.5 kg, so the material can be easily moved and taken measurements before the final installation. Also, it is an excellent alternative to traditional stone slab. Another plus of veneered stone slabs is that they are flexible, yet will not crumble or get damaged. This is great for living rooms where standard stone would be non-functional and much more difficult to install
Veneer can be successfully cut and adjusted to the height and width we need. As we mentioned above, the installation of veneer panels is simple and quick. To glue such decoration does not need the presence of a stone specialist. Stone veneered panels consist largely of fiberglass, so they are waterproof and provide protection against moisture. Before purchasing the material it is worth checking whether it has the appropriate certificates and approvals, especially from the National Institute of Hygiene
Veneered stone slabs as a decorative element
Stone is a natural raw material that is increasingly used in interior design. Traditional stone slabs can be expensive and non-functional solution, so an interesting alternative is the use of veneered stone slabs. Veneered stone slabs are a new and revolutionary trend among finishing materials, at the same time being fully ecological and natural. Decorating a living room with stone slabs will give the interior a raw, modern look, which perfectly matches the elegant and luxurious furniture and accessories. Stone veneer will look great in combination with both minimalist Scandinavian design, as well as with a living room in glamour style. It is very popular among lovers of natural and sophisticated arrangements. Living room with such a decoration will certainly be functional, and at the same time look unconventional and unique. It is often a decorative element of fireplaces, columns and cornices located in the living room