Add Some Sparkle to Your Home Decor With Crystals & Gems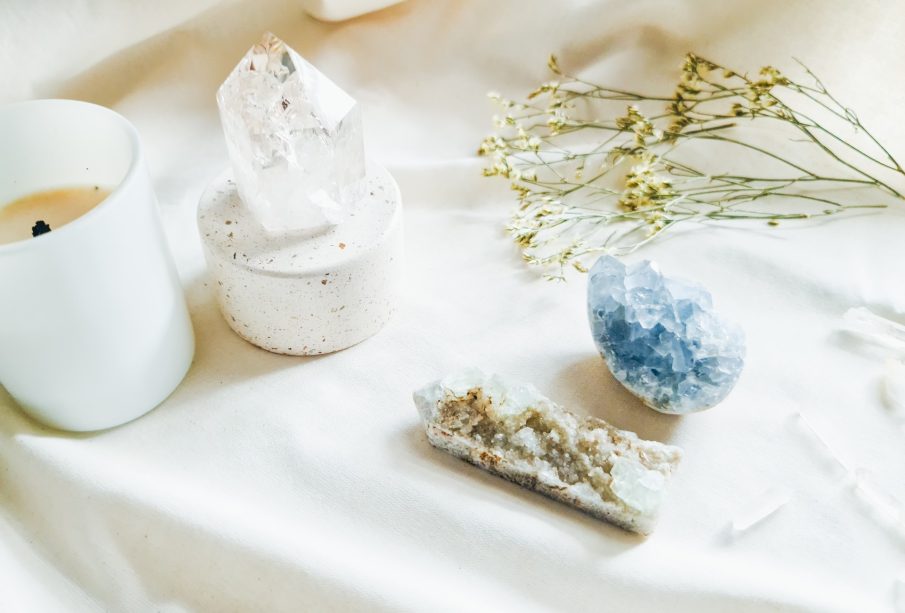 What could make your home's decor more beautiful than some gorgeous crystals and gems? Whether you're looking to spruce up your jewellery collection or make your living room just a little bit fancier, the right crystal & gems can do the trick! With these crystal and gem suggestions, you'll find that crystal for home decor can be as elegant as you want it to be. Let your imagination soar and get ready to shine!
Gemstones for your room
Adding crystal & gems to your home decor is a great way to add some sparkle and life to your space. There are many ways to incorporate crystal and stones into your decor, from vases and bowls filled with colourful stones to wind chimes and sun catchers made of beautiful crystals. You can even create a simple display of tumbled stones on a shelf or table. If you're looking for something a little more permanent, consider having a custom piece of furniture or art made with semiprecious stones. No matter how you choose to use them, crystal for home decor is sure to add some extra zing to your home. And the best part is that they come in every colour of the rainbow!
Try using crystals in unexpected ways
Adding crystal and stones to your decor is a great way to add some extra sparkle and interest. You can use them in vases, bowls, or even just scattered around on shelves. Get creative and try using them in unexpected ways, like in a frame or as part of a centrepiece.
You can even put them in the garden! The possibilities are endless when it comes to how you can use crystal & gems in your home. The best thing about crystals is that they're inexpensive and easy to find online.
There's something so natural and grounding about having stone artwork in our homes that we often forget to include it. When choosing stones for your wall art, keep these considerations in mind: What size stone do you want? What colour stone would look good with your current décor? How much do you want to spend? There are plenty of options available for all budgets, which means there is something for everyone.
Crystals can help boost your mood
If you're looking for a way to add some sparkle to your home decor, consider using crystal and stones. From rose quartz to amethyst, there are a variety of crystals that can help boost your mood and create a more positive atmosphere in your home. Here are some of our favourite crystals for creating a positive space –
Clear Quartz: Clear Quartz is the most powerful healing stone on the planet. It is perfect for purifying environments as well as people who have a down day. It will activate any other crystal around it as well as remove negative energy from the area or person.
– Rose Quartz: Known as the love stone, Rose Quartz brings unconditional love and inner peace when used correctly. Try placing one by your bedside table at night to promote deep sleep and peaceful dreams or keep one on hand in your purse or pocket during stressful times to promote inner peace during stressful situations like meeting with difficult people at work or interacting with customers at work who may be rude or demanding.
– Selenite: Selenite is the most affordable type of crystal and is often found in candle form. Selenite will emit white light into the environment making it feel safe and protective.
– Smoky Quartz: Perfect for calming anxiety, Smoky Quartz helps ground users while promoting self-love. It's also great if you want to manifest something specific into your life.
– Amethyst: The purple version of Clear Quartz, Amethyst has all the same benefits but can also relieve stress and promote creativity among other things.
Everything you need to know about the different types of Gems
From amethyst to turquoise, there are many different types of crystal & gems that can be used for home decor. Each one has its own unique properties and meaning. The following is a list of the most popular gemstones and what they mean:
-Amber – bring positive energy into your life
-Amethyst – wisdom, inner peace
-Citrine – optimism, balance
-Garnet – compassion, warmth
-Moonstone – intuition, inner knowledge
-Peridot – grounding self in the present moment -Quartz – clarity, awareness
-Rose Quartz – love, healing
-Ruby – vitality, success
-Sapphire – integrity, nobility -Turquoise – creativity, harmony
-Topaz – strength, happiness
Based on the energy you want, you can choose these crystal & gems in your home decor.
So wait no more use crystal for home decor. Check out this website to buy these crystal for home decor.
main photo: unsplash.com/Edz Norton