Outdoor carpet. Ideal for terrace and balcony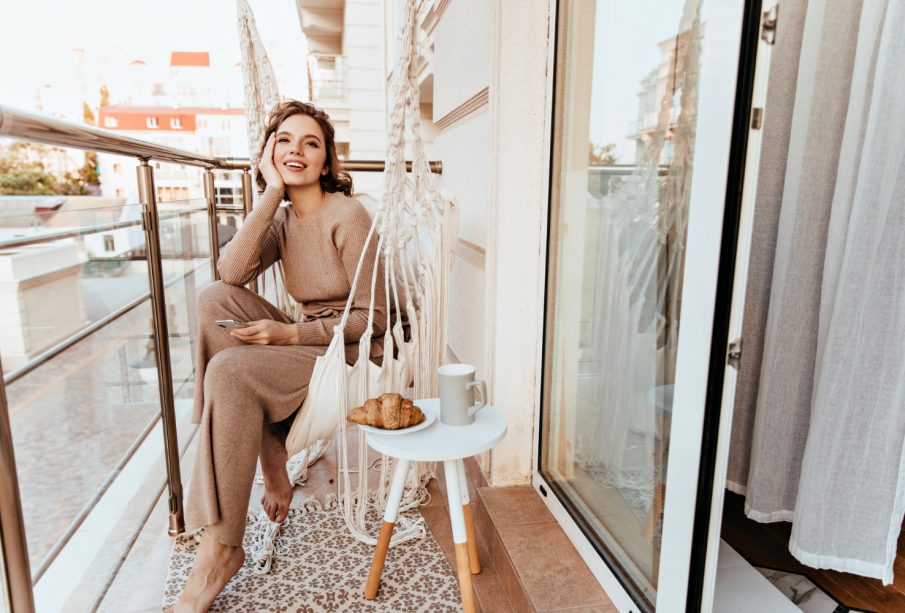 An outdoor rug is the ideal solution for people who appreciate practical solutions, but at the same time want to diversify the decor of their terrace or balcony. What types of outdoor rugs are there?
Outdoor carpet – benefits
By choosing outdoor carpet on the terrace or balcony, we can extend our living room and enjoy a comfortable rest in a tastefully arranged space. A good quality carpet is resistant to adverse weather conditions (rain, sunlight) and easy to keep clean. A good quality carpet is resistant to adverse weather conditions (rain, sunlight) and easy to keep clean. It is a clever way to cover a boarded terrace, which has been eroded by the tooth of time, or old tiles on the balcony, without having to invest in new substrate materials
Matching the carpet with textiles in a similar color or pattern (such as Moroccan clover or navy stripes) will create an aesthetically pleasing arrangement. With this solution our balcony or terrace will certainly gain in beauty.
Outdoor carpet – the material of construction
Many people wonder what materials are most commonly used by manufacturers to make outdoor carpet? Carpets intended for outdoor use can be made of water-resistant, for example:
pES mesh-reinforced vinyl,
polypropylene (PP),
polyethylene (PET).
You can also find outdoor carpets made of polyester in stores, but they are not as water resistant and we have to bring them inside the house in case of bad weather. When it comes to carpets made of natural fibers, such as jute, hemp fibers, or natural sisal, we must be aware that they are not as resistant to damage as their synthetic competitors, but they undoubtedly have their own unique charm
Nothing stands in the way of buying, for example, a small jute rug and putting a pouffe or a flower pot on it. But remember that sunlight and water can damage it irrevocably.
The most fashionable rugs for balconies and terraces
Very popular are carpets with geometric patterns, which perfectly match the terrace or balcony decorated in a modern style and are eye-catching. We can also apply it around the garden space, which has a classic spirit. Especially fashionable are color duos of black and white, gray and white and multicolored carpets.
Lovers of the boho vibe will also find something for themselves – many people are investing in rugs made of natural jute, which bring exoticism and a holiday mood. A hit on Instagram are round jute rugs woven with openwork patterns. They look especially impressive against a dark floor, emphasizing the charm of wooden planks or tiles.
How much does an outdoor rug cost?
In the case of outdoor carpets the price difference is similar to their counterparts dedicated to the interior
The price of a balcony or terrace rug depends on the material used and, above all, the size – for example, a small jute rug measuring 50 × 80 cm can be bought for around 100 zloty. A large jute rug (240 × 340 cm), on the other hand, costs around 1000-1500 PLN. If we want to attractively decorate the living room under a cloud, we must be prepared to spend at least several hundred zloty. It is worth waiting for the post-season sales, when the prices of this accessory may drop even by 50%.
We hope that our tips will help you buy the outdoor rug of your dreams, which will perfectly fulfill its practical and decorative function, proving itself for many seasons.
Main Photo: lookstudio/freepik.com