Terrace made of composite board. What is worth knowing before buying?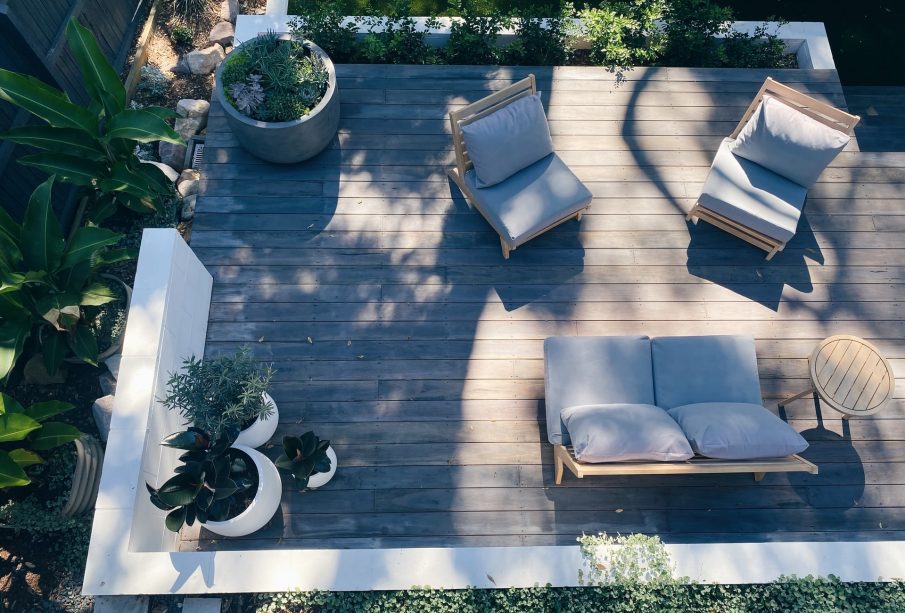 A backyard deck made of durable composite decking is a common alternative to wood decking. What are the pros and cons of composite? What do you need to know before buying this type of boards?
Advantages of composite decking
A composite decking is a mixture of plastic and wood (PP, HDPE or PVC and wood flour) – it combines the properties of both. The main benefit of having a composite decking is that it does not require cyclical maintenance. The only thing we have to do is to clean the grooves of the terrace board from time to time.
Another advantage is high resistance to unfavorable weather conditions – a composite board will perfectly withstand the contact with rain, snow or hail. Composite decking boards fit into both modern and traditional gardens, decorating the house space. They can be laid on virtually any surface.
A composite terrace can be built on hardened ground or previously prepared joists. The advantage of this type of boards is the ease of installation, uniform color, no splinters, homogeneity and attractive appearance that perfectly imitates natural wood.
Composite decking disadvantages
Like any material, composite decking also has some disadvantages. The biggest disadvantage is that the decking gets very hot – it is not possible to walk barefoot on a heated surface. Lower quality decking boards (PP and HDPE) become flexible when heated, which can cause them to deform.
The downside is also quite rapid fading under the influence of sunlight (which does not look very aesthetic, especially with dark boards) and flammability. You should not fire up the grill on the terrace, because the boards made of cheaper materials can be damaged when hot grease splatters on their surface.
It is worth mentioning that despite the easy assembly, the boards may be a bit troublesome when finishing non-standard places, when we will have to cut them at different angles (in this regard, wood is more graceful in processing)
How to take care of a composite terrace?
A terrace made of composite board does not require special care. It is enough to clean the surface from time to time with a pressure washer and remove fallen leaves regularly. Riffles can be thoroughly cleaned with a wire brush. Also remember not to leave fabrics on the terrace that are too water-soaked.
How much does a composite terrace cost?
Many people who are considering investing in a composite terrace wonder how much they should expect to pay? It depends on the quality of composite boards – the cheapest but also the least durable are PP and HDPE boards – you can buy them for about 40-50 PLN/m².
However, high-quality PVC decking boards, which are characterized by the best parameters (they are flame retardant, resistant to scratching, fading, temperature changes), cost on average 150-200 PLN/m².
As you can see, it is not a cheap solution, however, everyone who decides on a composite terrace is very satisfied with the purchase and enjoys a blissful rest with their loved ones, instead of wasting time on tedious impregnation, which has to be done by those who have a wooden terrace.
In conclusion, composite decking is water resistant and easy to clean. It doesn't require painting or refinishing and is more convenient to install than a wooden terrace. The lack of splinters makes composite decking safe for children – ideal for families and singles.
Main photo: Cameron Smith/unsplash.com