What lamps fit into de luxe interiors?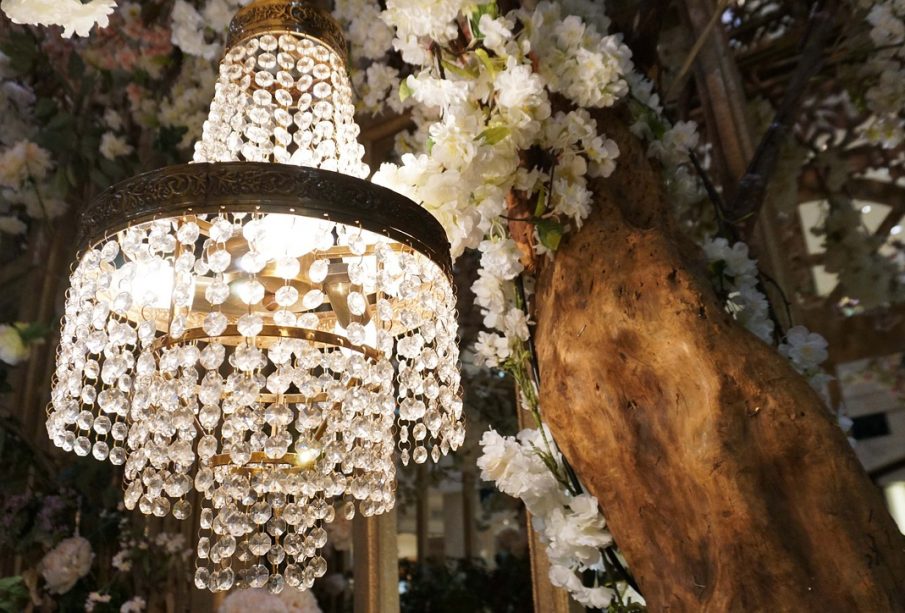 When we decorate our dream home, we need to pay attention to all the details. Not only furniture, color of walls or type of wood on the floor is important. We match curtains, decorations and also – lighting. It is worth ensuring that your chandelier or lamps fulfill not only a practical function, but also a decorative one, perfectly combining with an exclusive interior.
Your private ballroom
What else can huge, stylish chandeliers and pendant lamps with crystals be associated with? This is a perfect example of how to easily transform your living room into an amazing room. By definition, it serves not only as a leisure and resting place, but also as a visiting room. It is where you will receive your guests, so it is natural to want it to look its best. In glamour style you may allow yourself splendor and a sense of tangible luxury. Opt for impressive, even dramatic swirls, whose chrome simplicity blends perfectly with the elegance of black and the sparkle of crystals. Or maybe you dream of a waterfall of crystals? This is a great idea if you are decorating your living room in glamour style.
If you are looking for ideas for lighting your living room, opt for a decorative wall lamp in a classic way, combining modernity with the elegance of previous eras. Opt for simple lampshades and streamlined shapes of metal decorative elements in the form of swirls.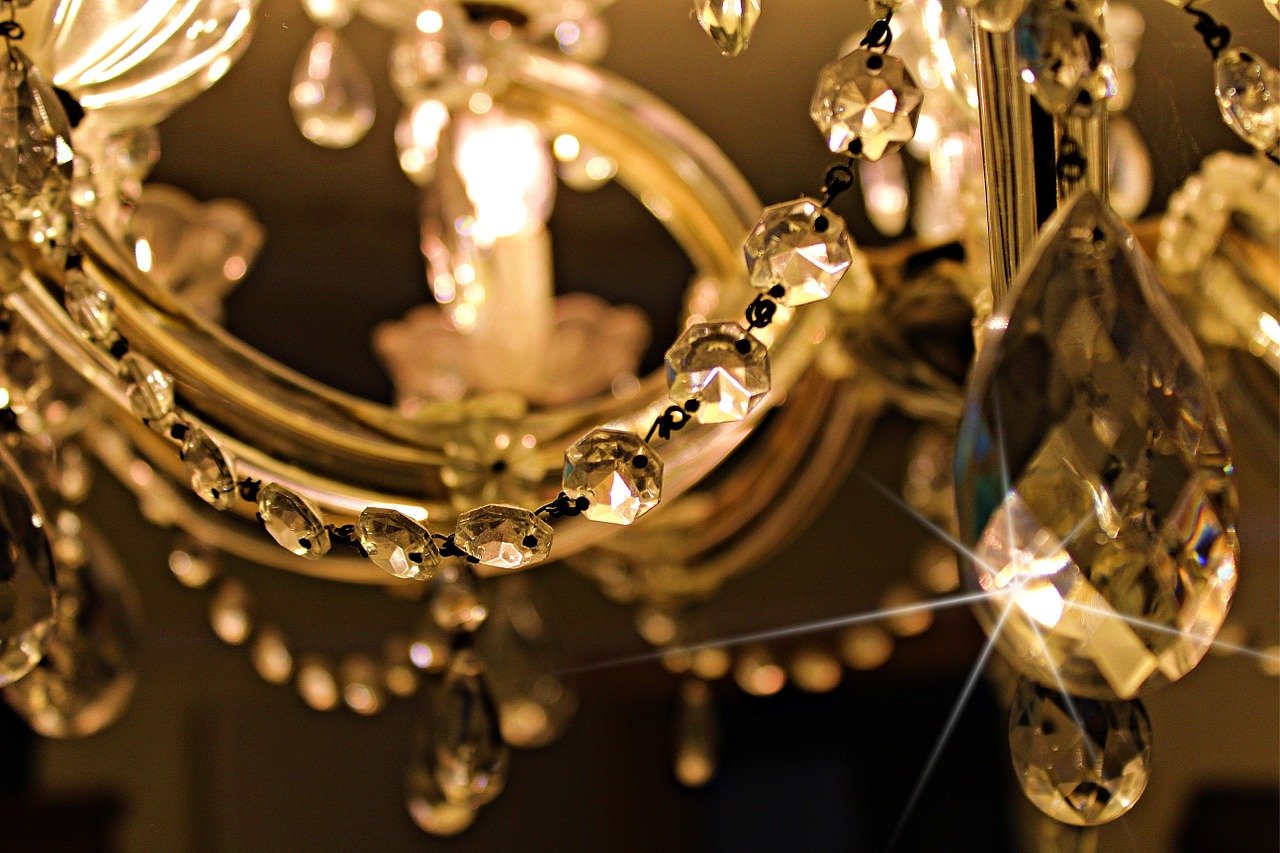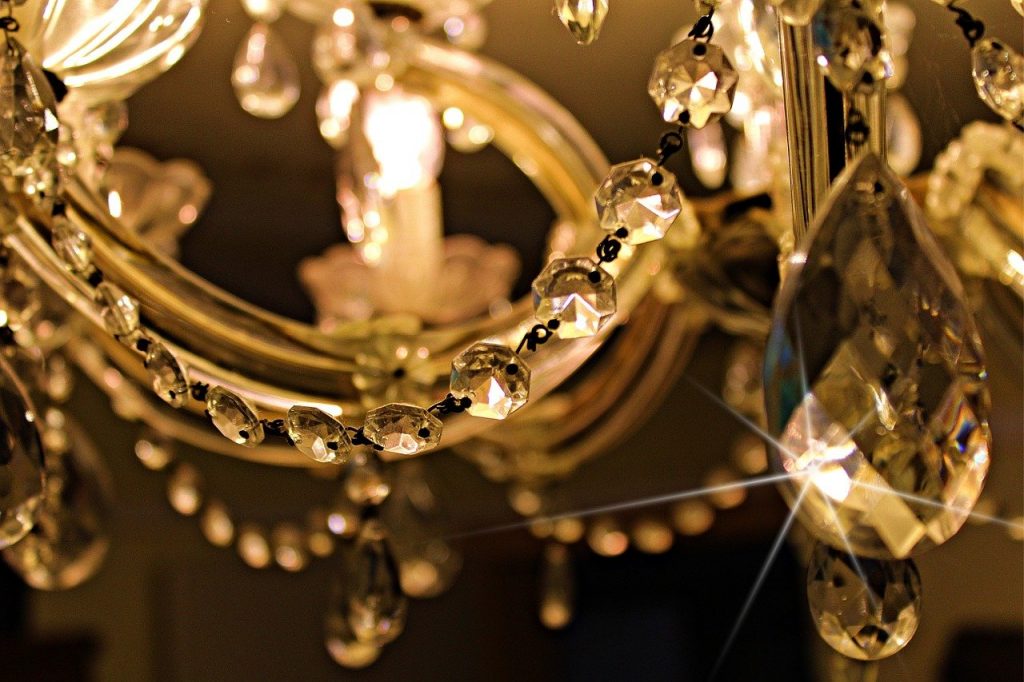 Above the table candlelight
Without departing from the theme of crystals, but significantly reducing their number, you can direct your steps to the dining room. In this room, bet on a touch of elegant modernity. A great example will be pendant lamps, to which the metal structure is attached tiny crystals. LED diodes placed in the lamp will make the lamp not only spectacular, giving the room a unique, individual character, but also energy-saving
Subtle twilight in the bedroom
A bedroom first and foremost needs to be cozy. It is a place where you come to rest from your worries of the day and nothing can distract you. So let go of the glamorous crystals hanging from your ceiling – their place is in the living room and dining room. Bedroom in glamour style is an elegant, classy and yet more modest place than other rooms. It should be dominated by your huge bed accompanied by a beautiful dresser. Choose a chandelier with lampshades in the color of beige or brown, whose light will perfectly shimmer in its metal elements. Bedroom is a room ideally created for standing lamps. Choose one by your favorite armchair to make the room more comfortable for you and your partner. A very fashionable solution will be lamps with crystals in their legs. They are great to introduce the glamour element in a subtle yet noticeable way.
Welcome in glamour style
When thinking about what kind of lighting should appear in your ideal home, you should not forget about the hallway. It is often the showcase of your four corners, a place that is the vestibule of your style and interior design taste. Many times, however, it is treated with neglect, while the corridor can really be decorated in an interesting way. And we do not have to overwhelm the interior! A perfect example of this is the choice of appropriate lamps. In the corridor bet on wall lamps. Their number should be dependent on how long and wide the corridor is. Symmetrical placement of elegant wall lamps will give your corridor a certain refinement. Depending on your preferences, bet on wall lamps with lampshades or those with decorative bulbs, for example, imitating the appearance of candles.