Hamptons style bedroom – style rules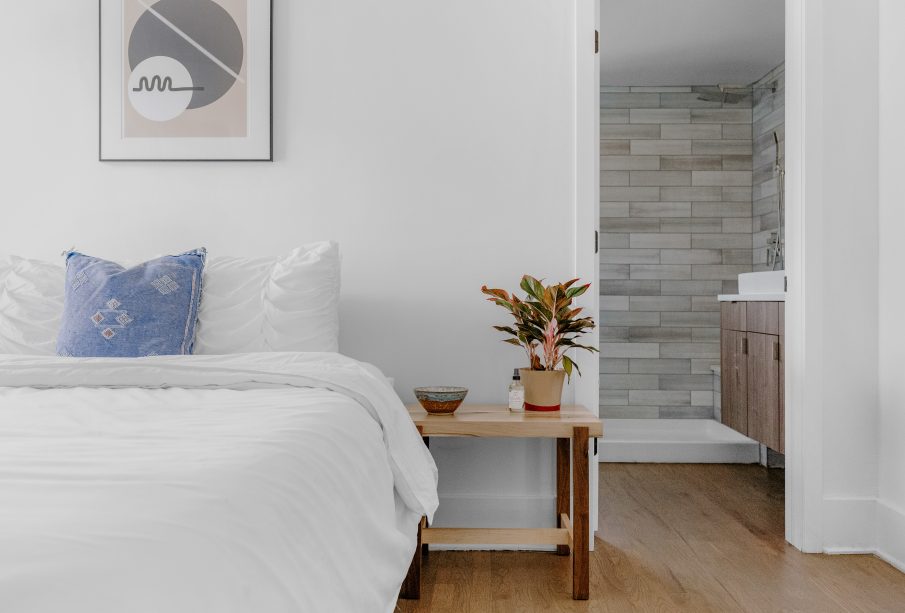 Do you like muted colors, natural materials, space and natural light in your interiors? Hamptons style is created for you! Check out how to decorate your bedroom in the hamptons style.
Where does the hamptons style come from?
The Hamptons is located on the eastern end of Long Island, near New York City. What made the seaside resort the birthplace of the popular interior design style? The character of the place – residential neighborhoods, sandy beaches, luxury in good taste – certainly contributed to it. The essence of hamptons style is solutions inspired by seascapes.
In interiors decorated in the hamptons style you will find:
muted colors (e.g. whites, blues, shades of sand),
natural materials (e.g. wood, stone, linen, wicker),
simple forms and soft lines,
natural light,
plenty of space.
Sounds inviting, right? Below you will find some practical tips on how to decorate a bedroom in hamptons style.
How to decorate a bedroom in hamptons style?
Decorating a bedroom in the hamptons style is not difficult and does not have to be very expensive. It is enough to focus on a few simple style principles to get a comfortable bedroom with unique character and class!
What wall color for a hamptons style bedroom?
Wall color is the first dilemma faced by anyone embarking on a bedroom renovation. The hamptons style dictates muted colors in muted shades. White (albeit slightly distressed, such as sea foam white), shades of sand and blues are perfect.
Remember, however, that bleached wall colors do not exclude clear single color accents – navy blue, turquoise, graphite and even red will add character and fierceness to a hamptons style bedroom!
What furniture for a bedroom in the hamptons style?
In a bedroom decorated in the hamptons style, you should find furniture made of wood. This is best done in natural, light colors or in shades of white and sand. Remember that this is a classic style. Furniture must have simple forms, without unnecessary ornaments.
Let space into your bedroom!
The Hamptons are all about expansive beaches, so the style is very much about open spaces. Therefore, when decorating your bedroom in the Hamptons style, do not go overboard with the accessories. Let them be in strong colors, as we mentioned above, but do not have too many of them. A few decorative elements will be enough – a beautiful ceramic vase, a decorative shell (after all, it is a seaside style!), a colorful pillow and a blanket.
Accessories for the bedroom in the hamptons style
When decorating a bedroom in the hamptons style, you cannot overdo with accessories. However, it doesn't mean that there shouldn't be any at all. Apart from the vases, pillows and shells suggested earlier, you should also bet on curtains – necessarily made of natural materials, such as cotton or linen.
Do you like to put your feet up on a soft rug when you get out of bed in the morning? A soft carpet will complement your hamptons style bedroom perfectly. But make sure it doesn't take up the whole floor, which in a hamptons style bedroom should be wooden.
Do you like plants? Place one or two potted plants in your bedroom. Or perhaps add some colour to your walls? Graphics with a plant theme, which you can place in wooden frames, will perfectly emphasize the character of the bedroom in the hamptons style!
Main photo: SHOP SLO®/unsplash.com