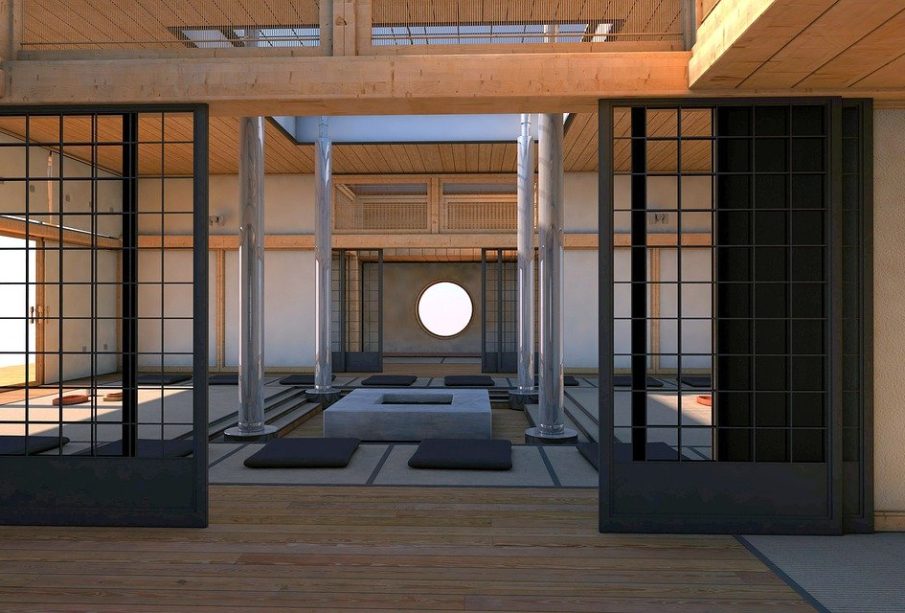 Japanese style is the essence of elegance, minimalism and harmony. If you like ascetic arrangements, this style will steal your heart. We suggest how to decorate a living room reminiscent of interiors from the Land of the Cherry Blossom.
Japanese style is based on the idea of Zen, a trend of Buddhist religion originating in China and later spreading in Japan, Korea and Vietnam. The basis of zen is the practice of meditation, leading to self-knowledge, enlightenment. Zen aesthetics can be associated with emptiness, austere and pure forms, minimalism and simplicity. These are also distinctive features of the Japanese style, which draws from the concept of zen.
For many of us, the Land of the Cherry Blossom is certainly associated with screens, fans, lanterns and tea sets, but if we want to decorate our living room in Japanese style, we should certainly not fill our room with all the aforementioned distinctive objects. We need to focus on colors, materials, forms of furniture and, above all, the necessary equipment.
What colors to choose for a Japanese-style living room?
Let's start with the color. The walls in a Japanese-style living room are best drawn with paint of light colors. We can choose beige or sandy shades, which will be a beautiful background for simple wooden furniture. Earthy colors will also work, so muted greens and grays or delicate browns.
When decorating a living room in Japanese style, let's limit the color palette. It is worth using a monochromatic color scheme or opt for different shades of the same color. The most important thing is to make the whole look consistent and calm.
If the bright and smooth walls seem too austere to us, we can decorate them with vertical and horizontal wooden slats, referring to Japanese interiors.
Japanese style living room furniture
Furniture in a Japanese living room can be modern and at the same time refer to the traditional style. Let's choose models with simple forms, without unnecessary ornamentation, not high and small in size. Having in mind the famous Japanese ritual of drinking tea, let's first of all take care of a low bench, around which we will place comfortable poufs or lay pillows. We can also use tatami mats made of straw, which has insulating properties, so we do not have to worry about the cold pulling from the floor.
Small chests of drawers (called tansu) and tables will also be useful in a Japanese-style living room. Choose furniture made of natural materials, for example, wood and bamboo, which will emphasize the exotic design.
Accessories for a Japanese living room
If you want to emphasize the charm of a Japanese-style living room, you can opt for walls made of special shoji paper, which immediately bring to mind interiors from the Land of the Cherry Blossom. In the windows, it is worth hanging long curtains made of natural materials, such as linen. Do not forget about appropriate lighting – choose lamps that emit bright, warm light. Let's bet on models made of wood or glass. An unconventional solution, but still referring to Japanese aesthetics, are paper lampshades.
We can emphasize the Japanese living room with one expressive accessory, such as a fan hung on a plain wall or a screen. Green plants in large clay pots will complete the exotic arrangement.
main photo: pixabay.com/PIRO4D