Can a studio apartment be glamorous?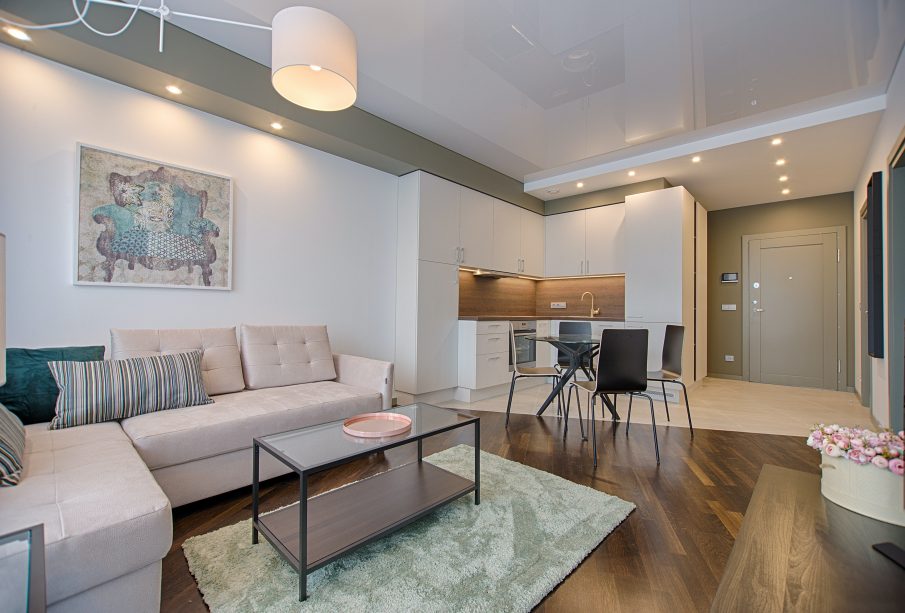 Small interiors are more difficult to arrange than larger ones. However, this does not mean that you can not arrange them in the style of your dreams. Features of the glamour style will optically enlarge the interior. See what solutions to use to decorate a studio glamour.
What are the characteristics of the glamour style?
This style draws from past eras, especially the Baroque. This is visible primarily in the ornaments and accessories used. Objects with expressive shapes are combined here with simple, modern furniture. Thanks to this, glamour interiors retain a more contemporary character, at the same time avoiding exaggeration. Classicism combined with modernity gives the interior an original look.
Furniture
In this style, the appearance of furniture is based on simple, very classic shapes. Thanks to this, interiors are not overwhelmed by expressive materials, such as stone, steel or glass, which are often visible in accessories. A large, glass table works well in a bedsit. Its legs should have a simple form, as should the chairs, preferably quilted. In the living room, which apart from a bedroom also serves as a closet and a sitting room, a bed has to be found. It is best if it has a quilted or leather-covered headboard. You can find glamour beds for a bedsit at https://www.tcmeble.pl/lozka/.
In a small space instead of a bed, corner beds will work well. It is important that they are kept in a similar style, so quilted materials will work well. At https://www.tcmeble.pl/narozniki/ you can find corner sofas, which will match the glamour style.
For those who prefer comfort, a good solution will be to buy armchairs and a sofa. This will help to emphasize the living room function in a studio apartment. Here: https://www.tcmeble.pl/sofy-fotele/ a wide selection of suitable sofa sets is available.
On the floor, a large, fluffy rug or carpet will work best.
Glamour kitchen
In kitchen arrangements, furniture with high-gloss fronts is most often used. White color is best, which optically enlarges the room. It is also worth taking care of glossy finishing elements here. To keep moderation, it is better to leave the floor without any gloss.
Glamour bathroom
This style is particularly interesting in the case of the bathroom. A built-in washbasin is a must, preferably with a gilded tap. Above it, it is worth hanging a large mirror in a decorated frame, and next to it, place additional lighting.
Color scheme
Finishing interiors in glamour style is based on light, neutral colors. White and beige will work best, broken with accessories in more expressive colors, such as silver, gold or purple.
Accessories
In every room arranged in accordance with the glamour style, the most important thing is the impression of luxury. All materials should be of the highest possible quality. Good quality wood, satin and velvet will ideally emphasize the classics combined with the modernity of this style. Opt for soft pillows and curtains in an elegant purple shade.
A characteristic feature of glamour style apartments are large mirrors. Even a studio apartment should be equipped with them. A nickel-plated clock should appear on the wall. As far as other decorations are concerned, metal bowls, gold and silver ornaments, decorative vases and pots are the best.
Although the most impressive are large crystal chandeliers, in glamour style you can also bet on gilded lamps, black and gold wall lamps or geometric candle shades.
Main photo: Vecislavas Popa/pexels.com