Gold details – how to emphasize the interior design without overwhelming it?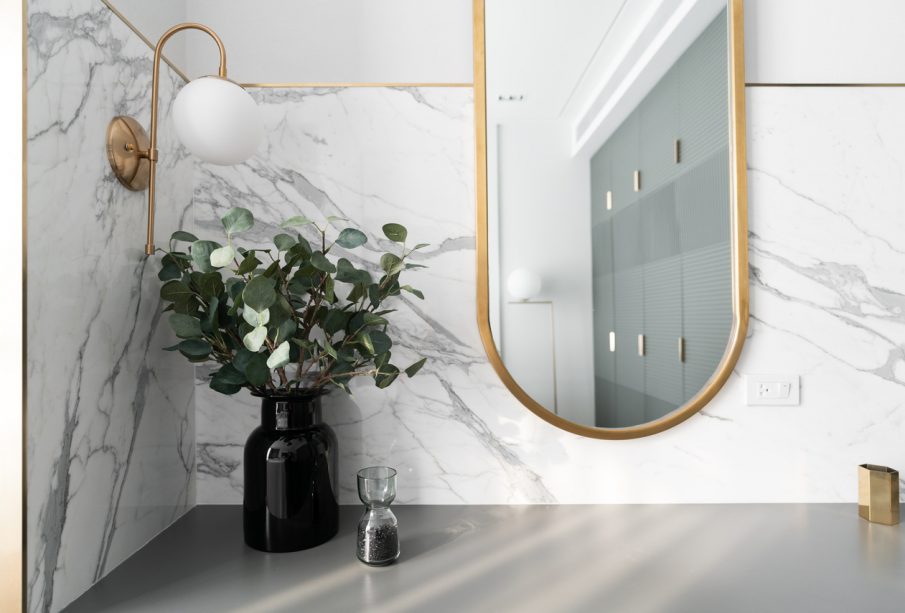 Gold has a long history and usually appeared in exceptional places. Royal palaces, richly ornamented temples or the houses of wealthy citizens – that is where you could most often find lavish gold ornaments. This noble material is still associated with luxury and nowadays it is starting to come back to our living rooms. However, it is most welcome in a more subdued and delicate edition. How to choose gold details properly so as not to overwhelm the interior? We suggest!
With what colors to combine gold?
This is the simplest question, because gold likes almost all colors and looks good in combination with most of them – from black, navy blue and dark green, through warm colors like burgundy and brick red, to ecru and white. If in your interior colors are arranged in a certain harmony, no matter what palette you choose, gold will probably fit perfectly into the decor of the room. In case of bright interior with predominance of white, beige and ecru, gold accessories will make the room gain expressiveness and noble character, but chosen moderately they won't take away its lightness.
An interior maintained in deep dark colors and decorated with gold details is still less common in Polish houses, but still an exceptionally phenomenal combination. Colors such as malachite, bottle green, indigo or ink accompanied by gold make the interior gain class and exceptional elegance. If your room has one of those colors, definitely add to it a shiny company in the form of a gold vase, frame, table, or lamp. Gold elements will also work well when combining dark furniture with a light interior base. Here are some sample inspirations.
Rule of three
In spacious interiors we can allow ourselves more, however, in case of a small apartment it is easy to overdo the decoration. Therefore, in order not to overwhelm the interior, it is worth applying the rule of three. In most rooms, regardless of their size, a combination of three golden accessories, which properly placed will make the interior gain a unique character, and thus avoid the effect of pomp. It may be a table on golden legs – especially those with a marble top look great – a floor lamp, or one standing on a chest of drawers or a console, and an accessory in the form of a golden frame, a vase, or a decorative figurine. Such a number of details should successfully compose with almost any interior.
Appropriate placement
In case of gold ornaments, it is essential not to place them too close to each other – if accumulated in one place, they may overwhelm the interior. It is good to place elements in right distance, so that they are visible in different corners of the room. A bit more density can be afforded in the case of small details, such as frames, candles, or figurines, which, however, should be separated with a different color, which will allow us to create a balanced composition.
Mirrors with golden frames
A phenomenally looking element of decor is a mirror framed in a golden frame. Such an accessory can be placed as the main point of decoration in various rooms. It will be perfect in the hallway, in a minimalist bedroom or above the dresser in an elegant living room. When it comes to the appearance of the mirror, the choice is wide; depending on the style of the room, we can choose more decorative, avant-garde or simple frames. Mirrors with a sophisticated frame, such as those in the shape of the sun, can look very impressive in the hallways, where they are usually a necessary accessory, and by the way fulfill the aesthetic function. In bedrooms, a standing mirror, with a properly selected golden frame, will look delightful.
When composing gold accessories, it is best to choose them in a consistent style. If our interior has a classical character, ornaments in old gold may look good. In case of modern interior, it is definitely better to bet on pure shade of gold or in rose color. Deciding on a particular shade, it is good to keep all accessories in a similar tone. Many elements of decoration may also be made by ourselves. If you have an old vase, frame, or lamp, which after renovation of your interior do not match it anymore, you can give new life to old objects by using gold spray paint. After such a treatment, they can still wonderfully decorate our changed rooms.