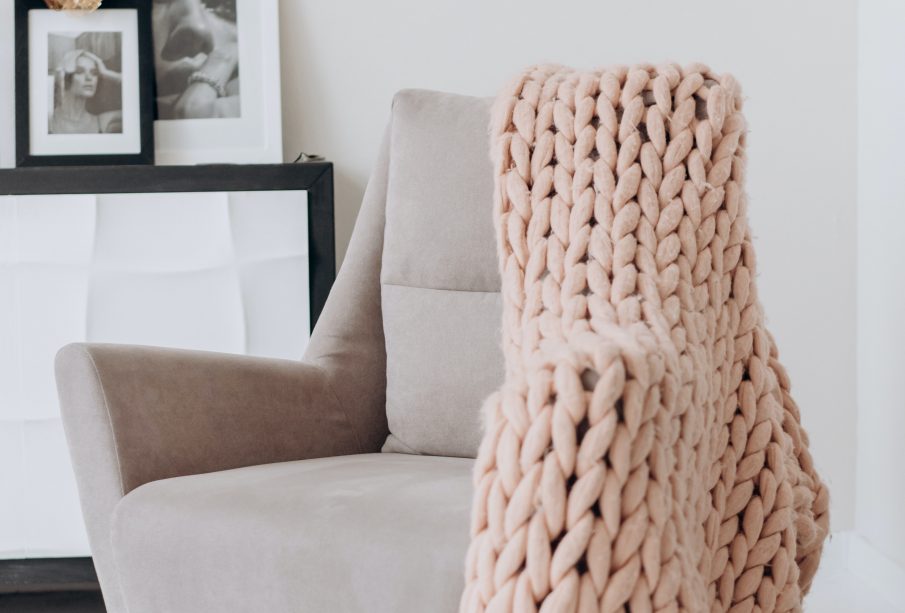 The bedroom is a refuge where you like to relax after a busy day. It is also the place where you probably spend the most time during your pandemic home office. Today we are doing a review of the most beautiful and comfortable armchairs, which will make the moments spent in the bedroom even more enjoyable!
What chair to choose for your bedroom?
The most comfortable! But choosing an armchair also depends on how you want to use it. Whether it's just for decoration or to sit on while you're working or doing your make-up. Or if you are a bookworm and have a mini library in your bedroom.
When choosing an armchair for a bedroom it is worth to pay attention to the material it is made of – it is good to choose armchairs made of pleasant to the touch, natural materials. It is important that they do not cause allergies! Poles usually choose armchairs with cotton or plush upholstery.
Remember that an armchair which looks beautiful does not necessarily have to be comfortable – let us not hide it, the comfort of an armchair is very important. So choose a seat filled with springs or polyurethane foam popular in the furniture industry. Also pay attention to the profiling of the armchair, whether it has armrests and head support.
The earlobe king
The armchairs which we call "uchak" are by far the most popular piece of furniture in Polish homes. The earhook came to us from England and its name refers to the characteristic ears located at the headrest.
Lounge chairs are timeless and very easy to arrange. They are available in many shapes (the classic one being the most popular), colors and finishes. You can also buy ear cushions complete with pouffes and footstools.
Opinions are divided as to their comfort. For some owners, they are the most comfortable seats in the world, while others claim that ear cushions are only a decoration of the room, and the level of comfort and pleasure of sitting on them is extremely low. This is something you have to judge for yourself.
Different versions of the earhook
The classic ear cushion in its traditional form will fit into many arrangements in many styles. The variety of colors and materials allows to arrange it both in modern, industrial bedrooms, and those decorated in glamour style.
However, if you are bored with the classic character of this armchair, we have good news for you! There are many crazy forms of this armchair on the market – starting from the earhook on high legs (this model looks a bit lighter, more subtle) to the egg-type earchair (if you love original, crazy furniture, this model will steal your heart!)
The earhook armchair is also available as a rocking chair and an adjustable backrest. The best choice for the bedroom are earlobes with footrests – thanks to them, you can relieve your legs while reading. This solution, however, will work in slightly larger bedrooms; in very small ones, it may give the impression of cluttering the space.
Another disadvantage is the price of such a set – it will surely be slightly higher than buying a solo armchair. Lounge chairs with adjustable backrests are also a great solution – a nap on an armchair? There you go!
Shell glamour
The second armchair model most often chosen by Poles is the one shaped like… a shell! This model will definitely look best in bedrooms in modern glamour style, surrounded by gold or white. This model of bedroom armchair is becoming more and more popular.
Admittedly, it is mainly dedicated to dressing tables or desks, where you do not spend much time. The shell, due to its lack of support for the head, will also not work well if you are planning long hours of book marathons. However, it is worth taking a look at the arrangements with the seashell seat in the lead role
The price of a comfortable chair
If you intend to use it every day, for many hours, this aspect should be a secondary concern for you (within reason, of course!). However, if you are going to use the chair occasionally, it is worth hitting the mid-price range. A decent armchair made of good materials can be bought for about 350-450 PLN.
It is worth looking for armchairs in online furniture outlet stores. However, if you are interested in an armchair in an unusual color and sophisticated design, you have to reckon with a bigger expense – such an armchair can cost you even 1500 PLN
Read also: https://castlelocal.com/interiors/bedroom-in-a-romantic-style-powder-pink-navy-blue-and-gold/
Main photo: Mikhail Nilov/pexels.com